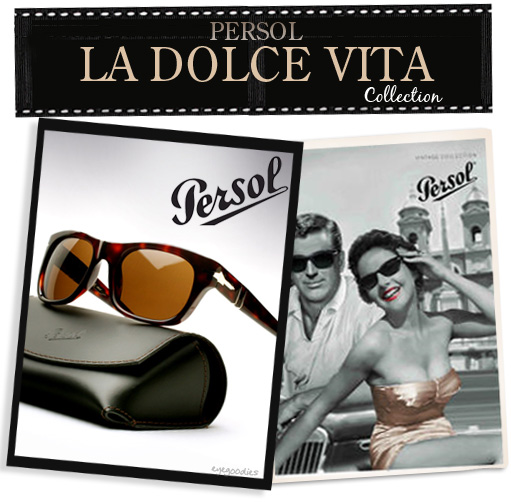 Persol pays homage to the 50th Anniversary of the legendary film "La Dolce Vita" with a special edition sunglass.
For almost a century Persol has been world renowned for their timeless aesthetics and impeccable craftsmanship.  Synonymous with style and class it's no surprise that their frames have constantly graced the faces of some of our leading actors in just about every generation. From Marcello Mastroianni, Steve McQueen, Cary Grant, to Tom Cruise, and virtually everyone in between can be seen wearing the classic styles of Persol.
Now in 2010 they honor this connection to film by releasing a special edition collection to celebrate the fiftieth anniversary of Federico Fellini's legendary film La Dolce Vita, one of the most iconic movies in Italian cinema. Persol sunglasses were the sunglasses of choice seen on all the actors in Fellini's films. The collection, fittingly termed "La Dolce Vita", features two vintage inspired models meant to capture the style and charm of Rome in the 1960's (the setting of the film).
The Persol 2978/S, shown here, is a classic shape given a vintage feel with its sleek rounded corners. Available in two classic colorways: black with G15 polarized lenses and tortoise with brown polarized lenses. To commemorate the collection the inside temple bares a metal "Heritage Plaque" with the year Persol was established (1917).
SHOP PERSOL 2978 LA DOLCE VITA SUNGLASSES >>