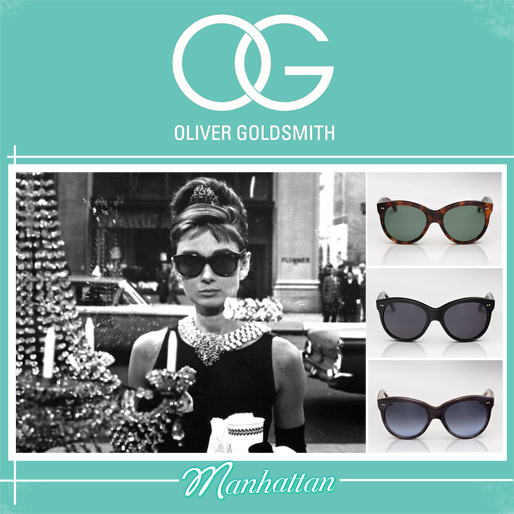 Eyegoodies is proud to welcome to the site Oliver Goldsmith sunglasses.
Oliver Goldsmith, founded in London in 1926, didn't invent sunglasses — Nero wore thick slabs of emerald to shield his eyes from fierce Roman sun 2000 years ago. But there are few, if any, who have had the influence that Oliver Goldsmith has. They heralded an eyewear revolution, changing their perception from medical necessity to a fashion must-have.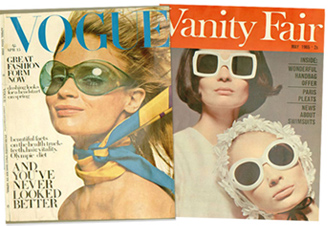 If you haven't heard of the brand, chances are you have seen their frames. Their signature sunglasses have adorned nearly every major celebrity and style icon from the 50's onward. Think 20th Century icons such as: Michael Caine, Audrey Hepburn, Grace Kelly, Sophia Loren, Jackie O, Princess Diana, and the list goes on.  A true pioneer, their sunglasses were the first to appear in Vogue, and they were the first to work with fashion houses to create one-off pieces for the catwalks.
Today, the legacy and traditions set forth way back then is continued through Oliver's great-granddaughter Claire Goldsmith. The same quality, craftsmanship, and pride in handmade eyewear — One of kind sunglasses that speak not through obnoxious logos, but by the beauty, individuality, and personality in their designs.
Every year Oliver Goldsmith opens up their famed vintage archives and carefully selects from among their most beloved styles which will comprise their collection. Here we take a detailed look at one of the most iconic sunglasses, movies, and starlets of all time.


Today I met a delightful young lady called Audrey Hepburn. They tell me she is going to be a big star." Oliver Goldsmith