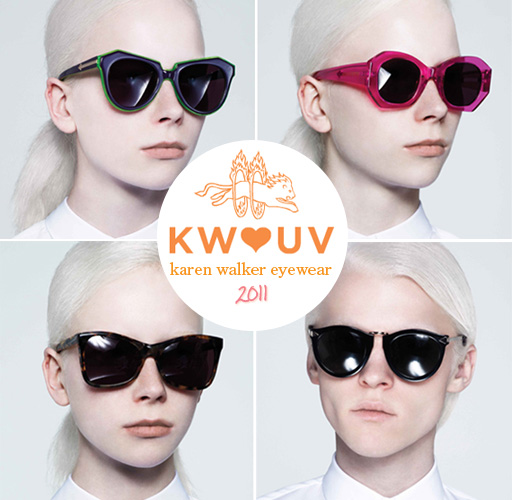 The entire new 2011 Karen Walker "KW HEARTS UV" eyewear Collection is now in stock.
We are huge fans of Karen Walker Eyewear here at Eyegoodies and are very pleased to present to you the latest 2011 "KW HEARTS UV" collection and campaign.  This season Karen Walker  does it again, with a range of new frames that are refreshingly original, fashion forward, and very wearable.
Seven great new styles are introduced to the collection in a wide variety of stunning colors: from classic tones such as "crazy tortoise" and black, to bright eye-catching semi-translucent candy colors such as orange and fuschia. Also we are glad to see the "Number One" model, last years break out hit, updated this season in very unique two tone color options: black with crystal yellow, brown with crystal orange, and purple with crystal green.
If pressed to pick a favorite, at the moment it would have to be the "Perfect Day". In the same spirit as the all popular "Number One" frame, the Perfect Day is a feminine and slightly oversized cat-eye shape with great proportions that tends to fit almost all faces extremely well.
Previous season's campaigns brought us frames modeled on Vampires then Egyptian Gods, now she shields even the most sun-sensitive albino's; While they might usually try to avoid the sun, they can't wait to sport their new Karen Walker shades and we can't blame them! Checkout the new collection, paired with the campaign imagery below.
The Collection: