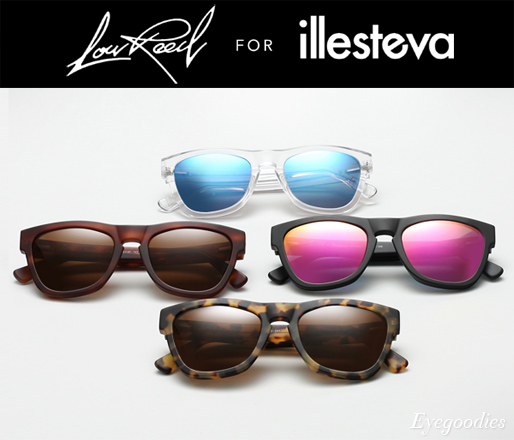 It is with bittersweet sentiments that we present the collaboration between Illesteva and the recently departed icon Lou Reed.  We received these shades just prior to Reed's untimely passing and were a bit conflicted how to proceed.   As longtime fans of Reed, and given the fact that he was so involved in every detail that went into the design of these sunglasses, we felt it would be a disservice not to release them to the public as he intended.
Originator, poet, and rock star are just a few of the phrases used to describe native New Yorker Lou Reed — Founder and pioneering front man of the rock band The Velvet Underground and undoubtedly one of the most influential musicians of all-time.
New York based Illesteva couldn't have asked for a better individual to work with, and as Daniel Silberman (Illesteva founder) phrases it, Reed was a "dream collaborator."
Throughout his career, Reed was an avid sunglass wearer always sporting a pair of signature shades, so it was with joy that he helped to create his own. The "Lou Reed for Illesteva" capsule collection features two timeless styles, an acetate frame and a metal aviator.  Handmade in Italy, each design is available in an assortment of colors ranging from the classic to those with colored mirrored lenses.
Check them out below: