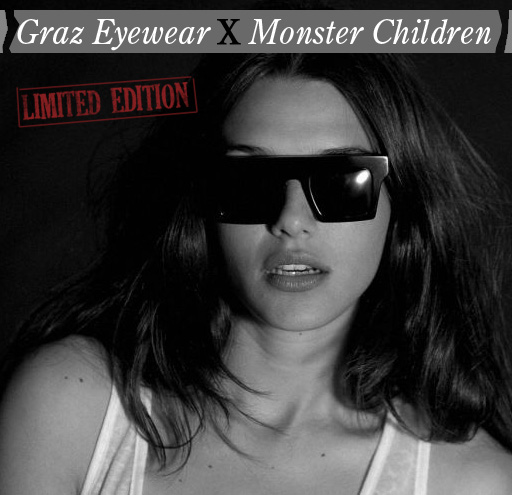 Just arrived, Graz Eyewear drops a sik limited edition collaboration with cult art magazine Monster Children.
Australian based sunglass label Graz, headed by Graz Mulcahy, might be one of the best kept secrets in eyewear, at least here in the states. Make no mistake about it though, Graz is not new to designing sunglasses, and for many who might not be familiar with the name know of his works. At just the age of 19 he launched AM eyewear before moving on to design for Ksubi and then onto his own self entitled line Graz. Some might also recognize the name, as having designed sunglasses and collaborated with the label Chronicles of Never for both the 2009/10 line (which we covered here).
Graz sunglasses are not about fancy logo's and fly by fads, they are a small label and you can tell the thought that goes into all the designs, which are seamlessly edgy yet classic. With a loyal and ever growning following his limited edition pieces can be quite difficult to get a hold of.
Now Graz collaborates with Aussie art based magazine Monster Children for these limited edition sunnies simply called "Obstacle". These aggressive unisex sunglasses are a juxtaposition of futuristic and old school classic style. They have straight lines and sharp edges and feature a keyhole bridge. They are all hand made of beautiful quality acetate.