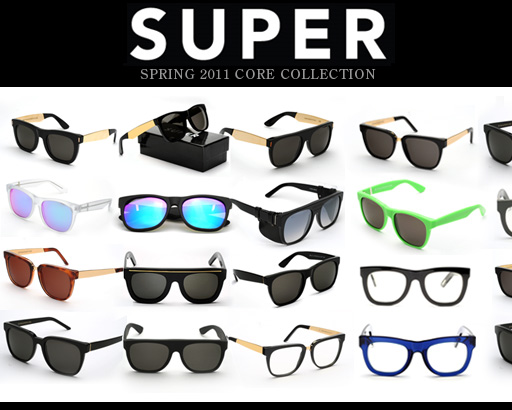 News from the East…SUPER CORE CLASSICS have returned!
The Spring Summer 2011 sunglass collection from Retro Super Future has finally arrived.  This season Super celebrates its progression by re-releasing some of the most instrumental models from season's past, as well as some fresh new color-ways (look for new colors up shortly). Representing a culmination of the Italian brands 3 year evolution, the core collection consists of a thorough range of eyewear: shapes, colors, and use of materials.
Re-released and re-stocked are many of the core pieces that helped define and refine the brand. Some of them sold out for weeks, some for months, some for years, are all back in limited quantities.
A few highlights of the re-release and re-stock are below.  Also check out our Super brand page for the full range.  As usual quantities are limited so get them while you can.
Some of our favorite items re-issued: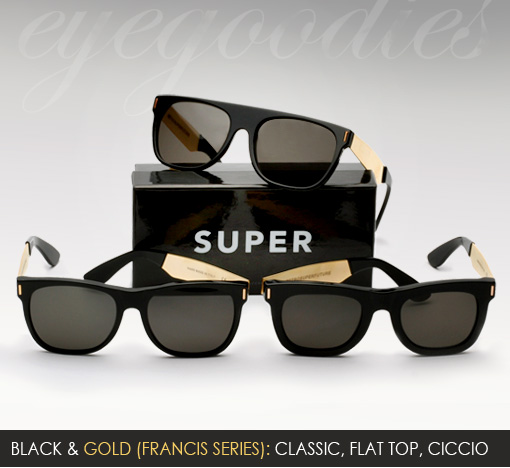 First released for the fall 2009 season.  The Francis series were Supers first combination frames.  Classic black frames with (a dash of flash) gold temples. Can be dressed up or down the Black and Golds have been hard at times to get a hold of, with the ciccio  being sold out for the better part of a year.
SHOP: Super Classic Black & Gold | Super Flat Top Black & Gold | Super Ciccio Black & Gold
Two of our favorites when they debuted in the summer of '09……they've been sold out ever since…… we are pleased to welcome back…… The Flash, in both matte black and matte crystal. These classic wayfarer frames feature Zeiss rainbow mirrored lenses which emit different colors at different angles. The lenses really POP and make for a distinct look, appreciated best in person.
SHOP: Black Flash Sunglasses | Super Crysal Flash Sunglasses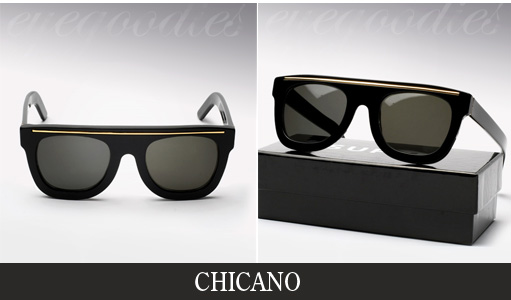 Extra Strong, Extra Thick. Extra Flat. The Chicano, an early Super edition first released in 2008/2009, is a unique cross between the Flat Top and the Ciccio model.  It brings together the best of two worlds seamlessly, an old-school thick and chunky frame with the modern straight flat top line and gold metal trim, giving it the perfect retro-futuristic balance.
SHOP: Super Chicano Sunglasses
The black and gold metal version of the refined People shape was sold through world wide soon after they arrived. They're now back as both sun and eyeglasses.
SHOP: Super People Black & Gold Sunglasses | Super People Black & Gold Eyeglasses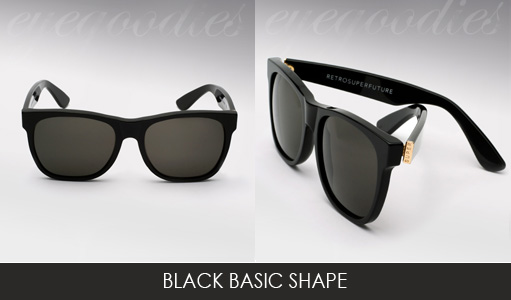 The classic Black basic shape wayfares are finally back in stock.
SHOP: Super Classic Black Sunglasses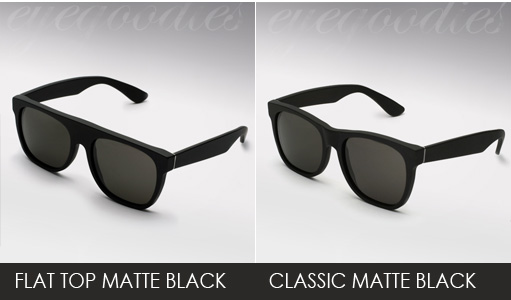 A great twist on classic black, the the stealthy Matte Blacks are now re-stocked.

SHOP: Super Flat Top Matte Black Sunglasses | Super Classic Matte Black Sunglasses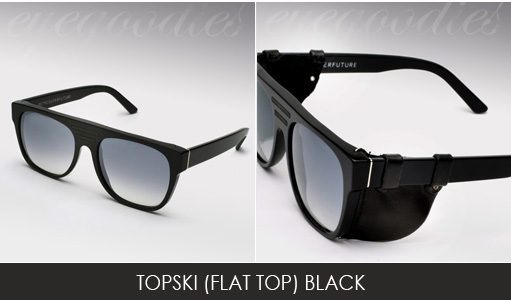 Also restocked is the Black Topski, which first debuted in 2009.  Retro Super Future's Topski sunglasses, can be rocked like a regular flat top or in high glare environments, whether the beach or the slopes or to avoid those bright lights, you can attach the old school leather side shields.
SHOP: Super Topski Black Sunglasses