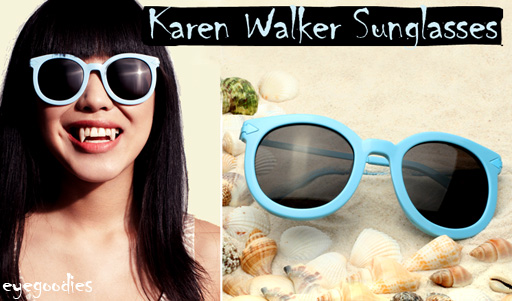 Vampires may be allergic to the sun, but even they can't resist Karen Walker sunglasses. Karen Walker draws blood this season with an eyewear collection perfectly termed 'Celebrate the Sun', featuring frames which have roots in vintage, but are infused with a modern flare.
The New Zealand born designer, ever since debuting her run way collection, has enjoyed an ever growing following with collections that are effortless and unpretentious. Karen walker's designs are quite an eclectic mix, bringing together many elements with a surprising ease. They embody tailored and street, masculine and feminine, dark and bright.
In true Karen walker fashion, this season her range of eyewear, all modeled on Vampires in her ad campaign, is quite fresh and lively.
Karen Walker Duper Strength
Karen Walker Duper Strength sunglasses are plastic oversized round P3 shaped frames. Vintage inspired circa late 70's early 80's, like the sunglasses in Annie Hall that started the craze.
Shop Karen Walker Duper Strength sunglasses >>

Also be sure to check out the Super Duper Strength Its the same shape as the Duper Strength with thicker plastic temples.