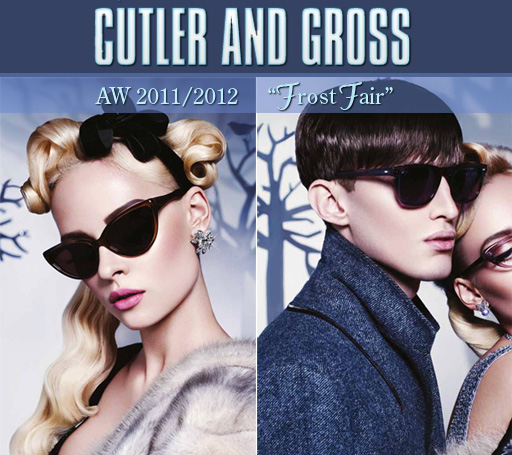 The new Cutler and Gross eyewear Autumn Winter 2011-2012 collection entitled "Frost Fair" is now available.
It's a getting a bit colder outside as winter fast approaches, making it a perfect time to warm yourself up to the finer things in life — and what better way than with a new pair of Cutler and Gross.
Centering around winter traditions, such as the cheery comfort of Christmas and fun of Halloween, the Cutler and Gross "Frost Fair" campaign evokes a nostalgia perfectly befitting their timeless style.  New classic designs in both sun and optical are introduced which maintain the "sense of tradition and yesteryear" but are streamlined to feel very contemporary. From a wayfarer to a sleek cat-eye, all are available in great colorways this season: from black, to petrol blue, to the rich warming tone of the new "cola".  As always, each frame is handmade to the highest technical standards, using only the best materials and with a truly unsurpassed craftsmanship.
"As the folklore and traditions built up over millennia have taught us, we all need some warming cheer in the depths of winter. And Cutler & Gross' Autumn/Winter 2011-2012 Collection offers exactly that: as enticingly tactile as a beautifully wrapped gift, it's exactly what one should wish for this Christmas."
The Collection: