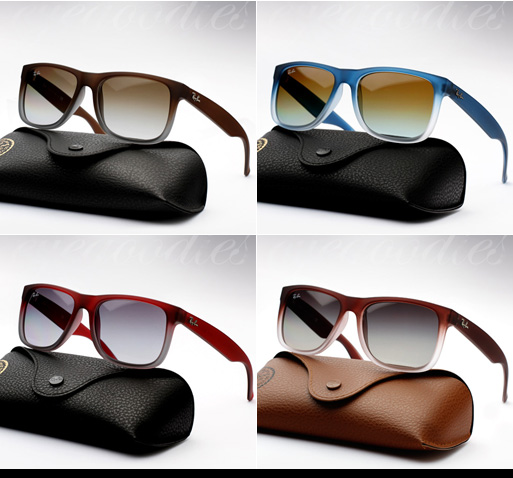 The latest wayfarer to join the Ray Ban family: Ray Ban RB 4165 Justin sunglasses.
The new Ray Ban RB 4165 (also named the "Justin"), offers a great fit for most faces.  The shape is more rectangular, rounder and contemporary than the classic Ray Ban Original Wayfarer rb2140, it doesn't flare up or angle into the face.  The RB 4165 is also a fuller shape compared to the Ray Ban new wayfarer rb2132, offering more coverage.
What really sets this sporty wayfarer apart though are its light weight comfortable materials. The RB 4165 is made with plastic lenses which are much lighter weight than the typical Ray Ban glass. The frame is also made from matted rubber which has the advantage of gripping your skin to prevent slipping.
The Ray Ban 4165 is offered in unique two-tone matte color options: matte brown gradient grey, matte blue gradient transparent, matte red gradient grey, and matte brown gradient transparent.
SHOP: Ray Ban RB 4165 Justin Sunglasses  >>
SHOP: All Ray Ban Sunglasses  >>