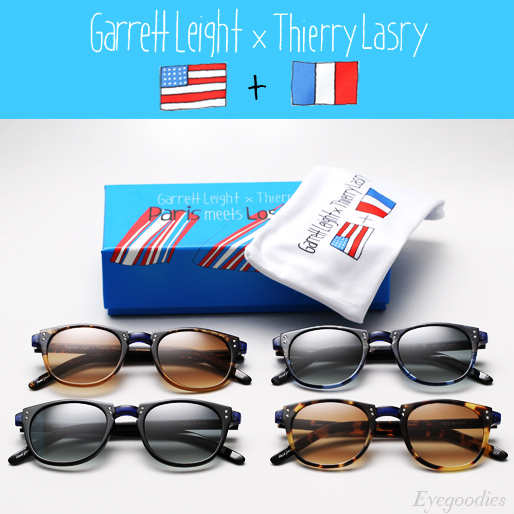 Garrett Leight X Thierry Lasry … Paris Meets Los Angeles, No. 2 – Limited Edition is now available.
Los Angeles based Garrett Leight California Optical and renowned Parisian eyewear brand Thierry Lasry, are back for their second limited edition collaborative release for winter 2013/2014.  Rarely do you see two direct eyewear brands get together, but when they do it is usually something special, especially when these two are involved (both long time brands here at Eyegoodies).
Revisiting the success of their previous collaboration, the latest incarnation draws inspiration from each designer's home city  — with each seamlessly incorporating their own signature style. The sunglass, simply named "Number 2″ (for their second collaboration), takes a classic shape and imparts a deconstructed twist.   Available in four main colors, each of which features blue acetate components at the bridge and temples which showcase the exposed hand-drilled rivets and screws.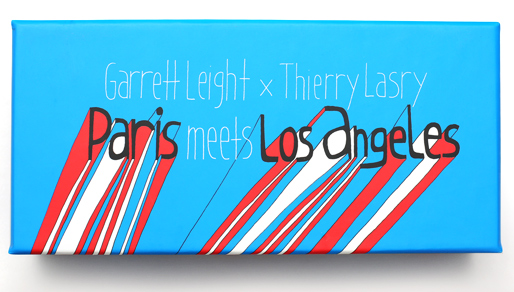 To commemorate the collaboration Garrett Leight and Thierry Lasry invited Los Angeles based artist Ashkahn to design a special edition box and carrying pouch as his own interpretation of each of the respective cities.
Check it out below:
Shop Garrett Leight X Thierry Lasry, No. 2 – Classic  Tortoise  sunglasses >>
Shop Garrett Leight X Thierry Lasry, No. 2 – Black sunglasses >>
Shop Garrett Leight X Thierry Lasry, No. 2 – Tortoise Fade sunglasses >>
Shop Garrett Leight X Thierry Lasry, No. 2 – Blue Tortoise sunglasses >>
Shop All Garrett Leight Sunglasses >>
Shop All Garrett Leight Eyeglasses >>