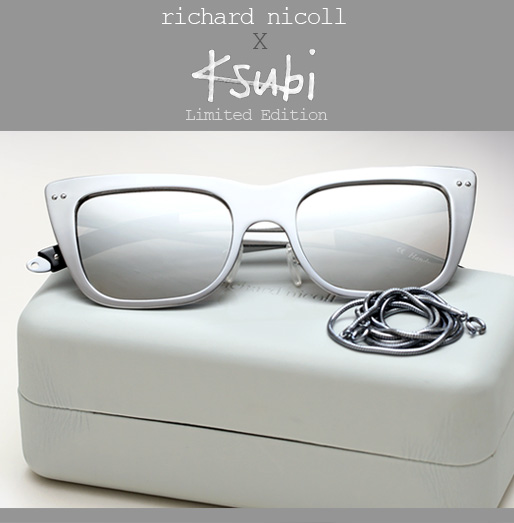 Ksubi Eyewear joins forces with world renowned designer Richard Nicoll for a limited edition capsule collection.
The highly acclaimed summer 2012 collaboration between Richard Nicoll and ksubi is based on Henri Georges Clouzot's unfinished 1966 'Masterpiece L'enfer'.
"Approaching the idea of taking classic cat's eye and 1950-60's shapes, which are modernized through detail and technique to create sleek and refined frames, the capsule offers architecturally strong lines softened with reflective surfaces and chain detailing, further resulting in a look that is simultaneously minimal and glamorous.The monochromatic colour palette is reminiscent of Clouzot's French 60's cinematography while glossed styles are carefully outlined with metallic hues. Chrome and mirrored lenses are nostalgic yet directional."
The collection is filled with one head turning piece after another: glossed acetate styles with metallic outlined lenses, as well as metal frames polished to such a purity they are indistinguishable from their matching silver mirrored lenses (a strong effect hard to capture on camera, best appreciated in person).

The Collection:
Shop Richard Nicoll X Ksubi, Hanne – Silver >>
Shop Richard Nicoll X Ksubi, Jacob – Black >>
Shop Richard Nicoll X Ksubi, Dempsey – Silver >>
Shop Richard Nicoll X Ksubi, Sara | Colors Available:
Black >>
Nude >>