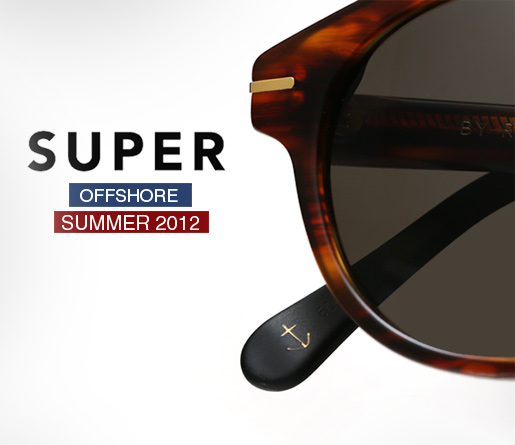 Super sunglasses Offshore Summer  2012 collection is now available.
With July 4th coming this week Summer 2012's officially in full swing, and it looks like its gonna be a scorcher! Super has you covered with some fresh releases to keep you looking cool in the heat.
Picking up right where the spring collection left off, Super's 'Offshore' release gives us some Limited Editions as well as one of kind new colorways in their staple silhouettes — Perfect for lounging on the beach or a day out at sea.
Without further delay, let us to proceed to the round up with some of our favorite pieces:

A limited release and one of the key pieces of Super's summer 2012, the Tiberio. A decked out version of their Racer model made of a rich molasses-colored havana with its temple tips dipped in a matte black acetate.  It features gold detailing adorning the front, and a subtle signature anchor on one of the inside temple tips for a cool summer touch.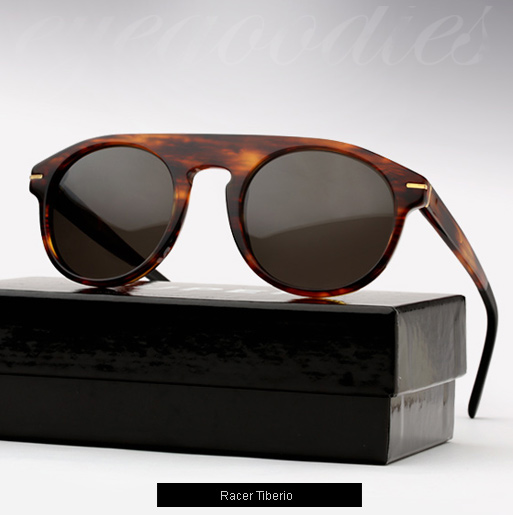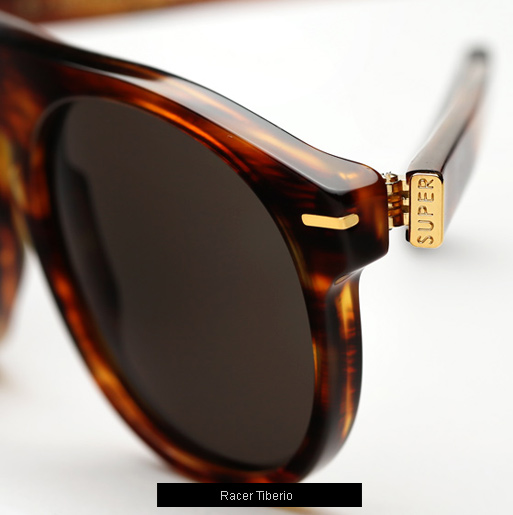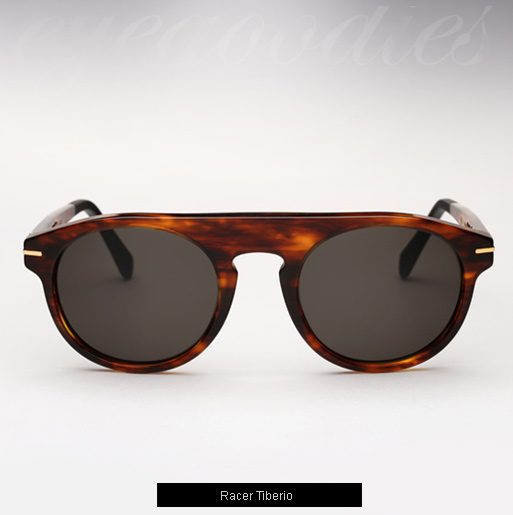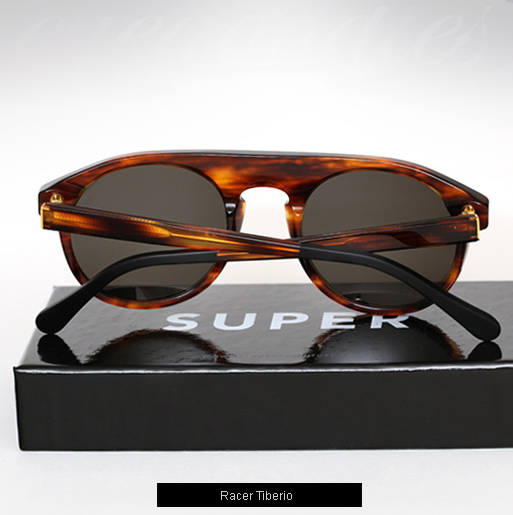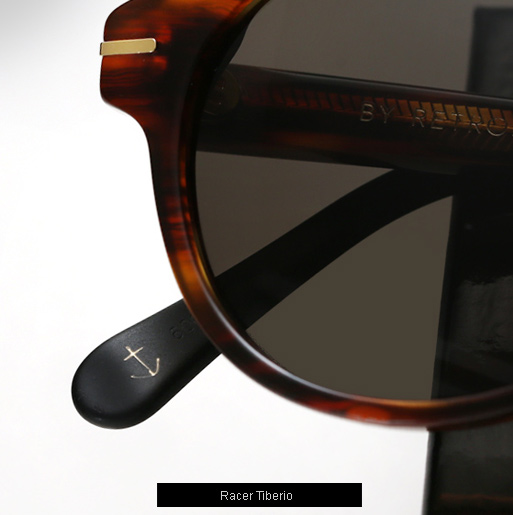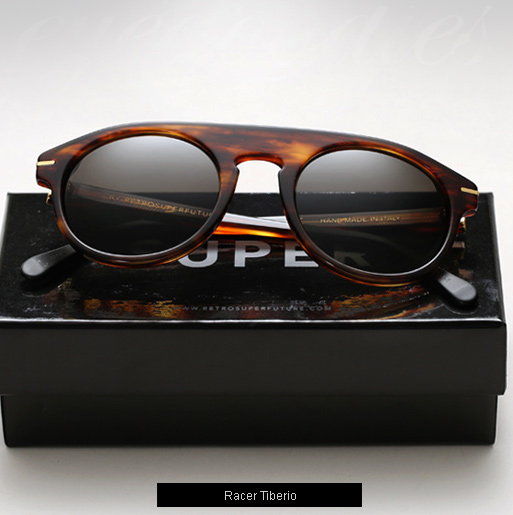 Shop Super Tiberio Sunglasses >>


After the resounding success of last year's exclusive ILARIA model, Super releases the latest incarnation: Ilaria Silver.  The Ilaria transforms the lucia model with the use of a red Havana  multi-color block acetate, silver metal, and deep cobalt blue Zeiss lenses.  The havana elegantly dresses the front of the frame and the temple tips while the silver metal gives it a great contrast.  Especially unique to the Ilaria is the silver metal which also outlines the lenses, really highlighting their round shape, as well as providing greater structural integrity.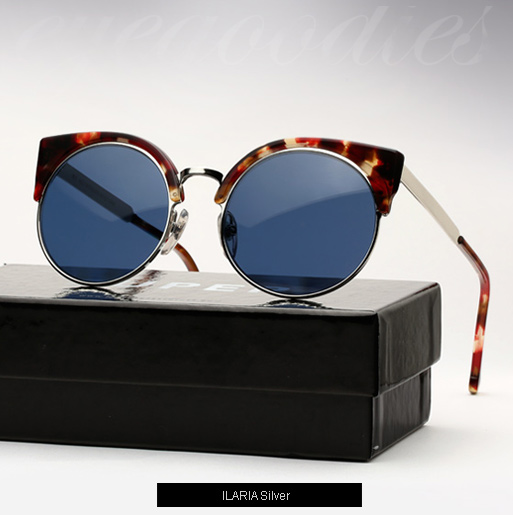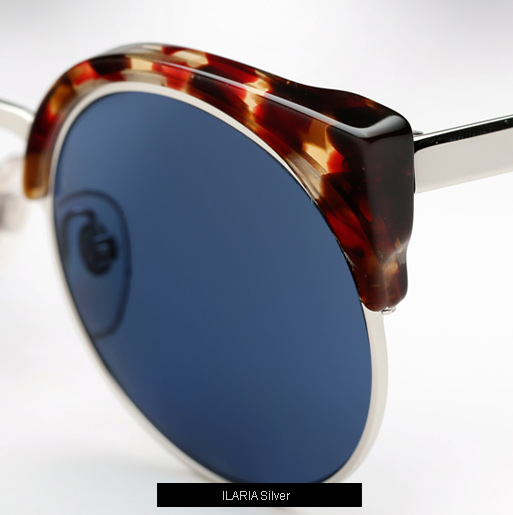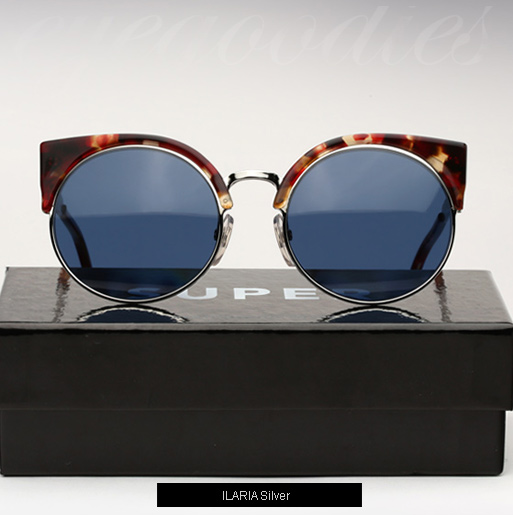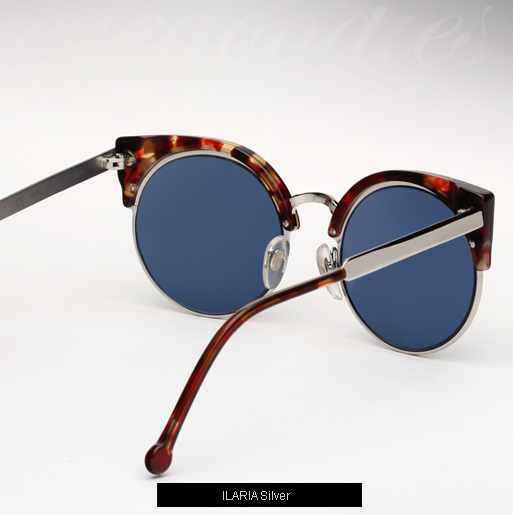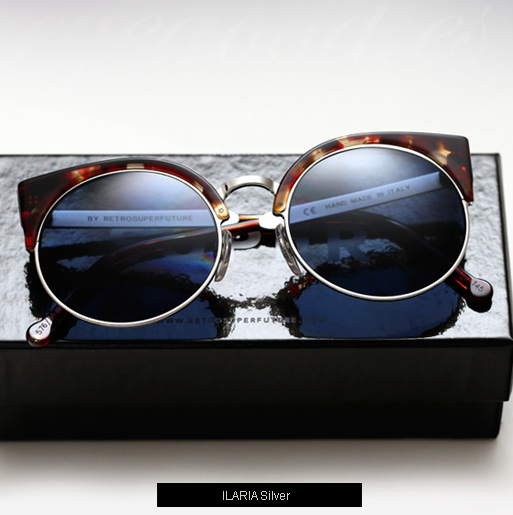 Shop Super Lucia Ilaria Silver Sunglasses >>


Visiva Series: Summer 2012.
First introduced in the Spring collection, Super carefully matched up vintage 70's and 80's prints with their classic shapes and acetates.  Each frame comes complete with a special edition matching printed box and will only be produced during the summer of 2012.
The latest summer batch of the VISIVA Series sees the same retro inspired prints revived on a top-notch resin crystal acetate, so unlike the Spring selection, the prints can be clearly seen both inside and outside of the shades.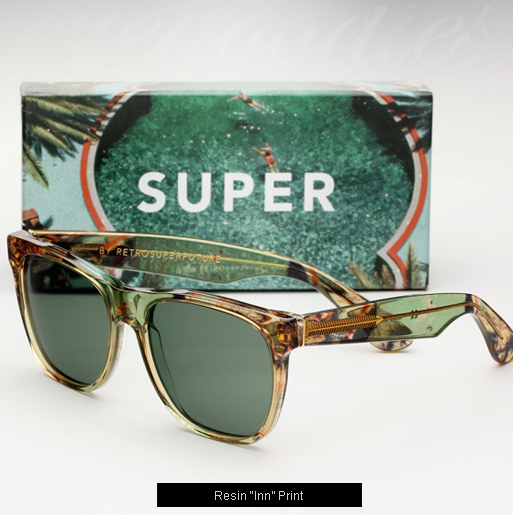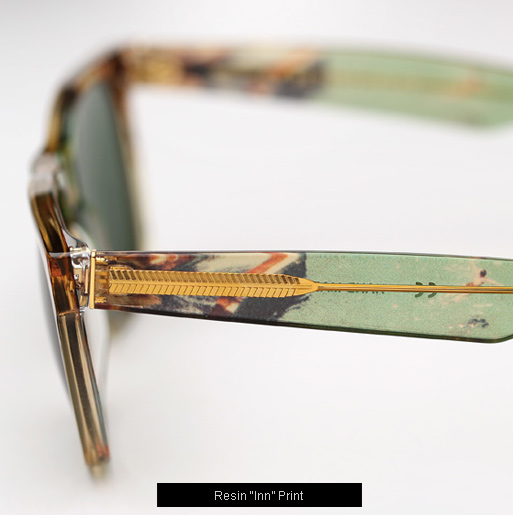 Shop Super Resin "Inn" Print, Available in:
Super Basic Shape Resin Inn >>
Super Flat Top Small Resin Inn >>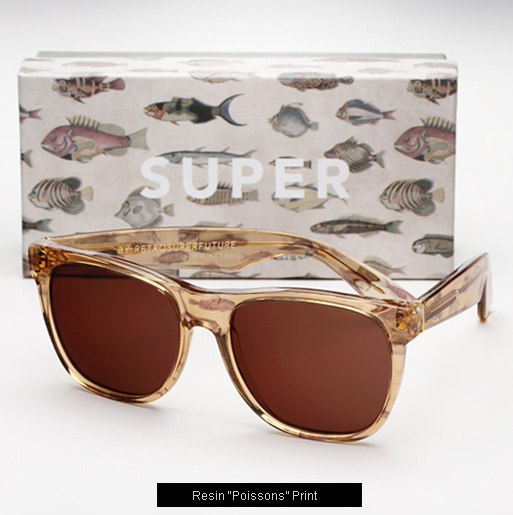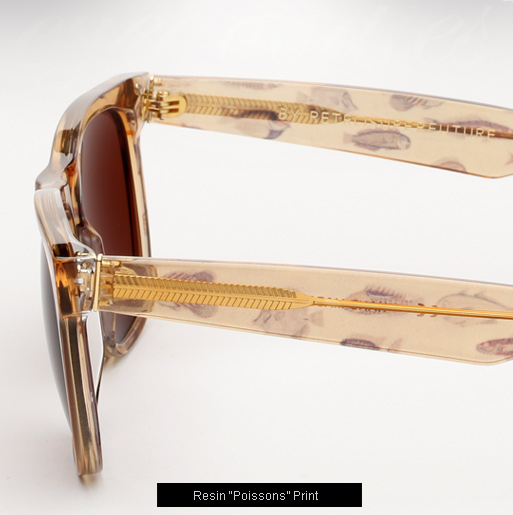 Shop Super Resin "Poissons" Print, Available in:
Super Basic Shape Resin Poissons >>
Super America Resin Poissons >>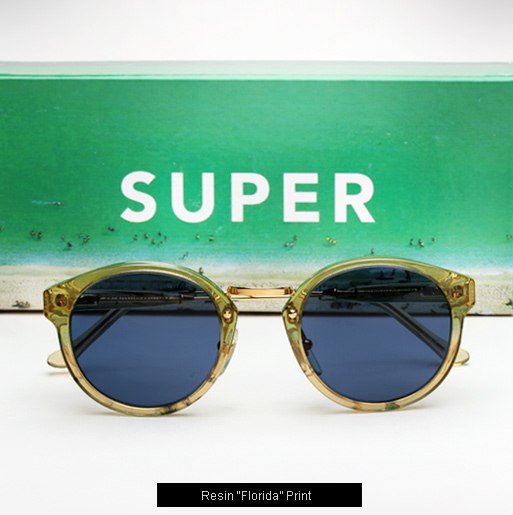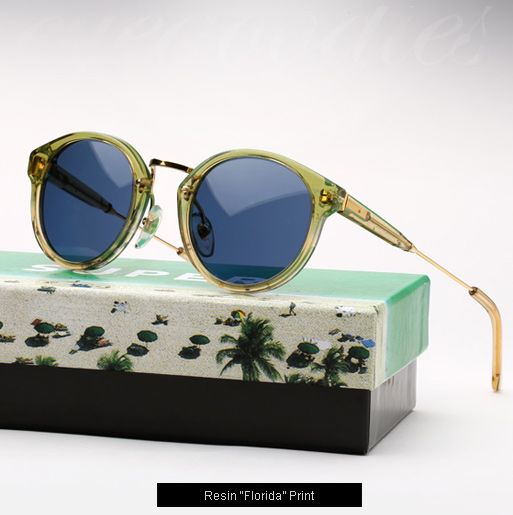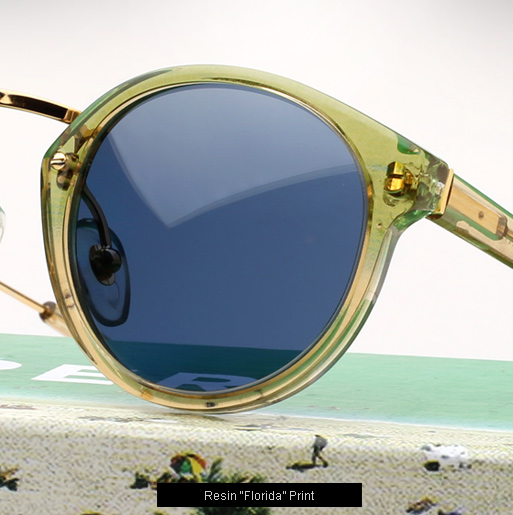 Shop Super Resin "Florida" Print, Available in:
Super Panama Resin Florida >>


Super's signature Chicano model is now available in "Burnt Havana" with gold metal, paired with brown lenses.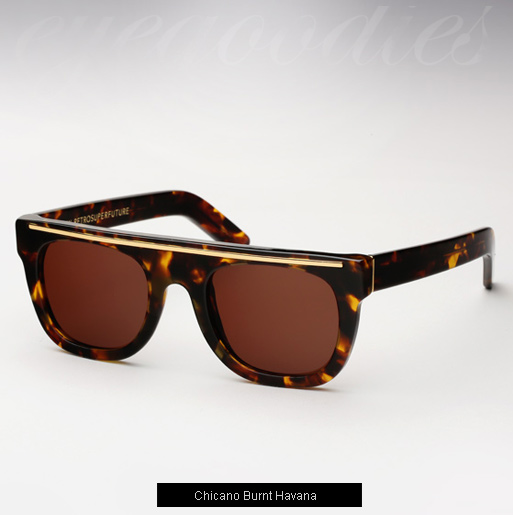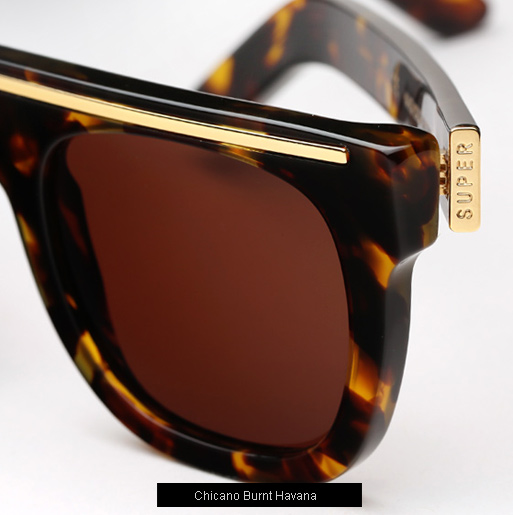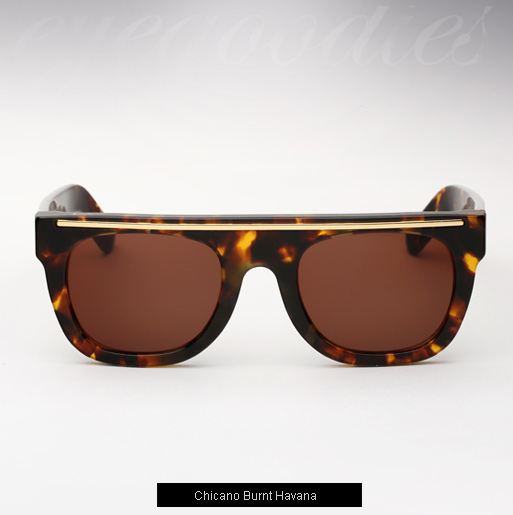 Shop Super Chicano Burnt Havana Sunglasses >>


As with the Jaguar 'QUASIMODO' from Super's Spring collection, the Panama Quasimodo employs the same nostalgic acetate blending technique, this time around with matte acetates only.  This completely unique yet classic piece of eyewear is composed of three various matte havana acetates in the same family of color, with each acetate forming a different component of the shades.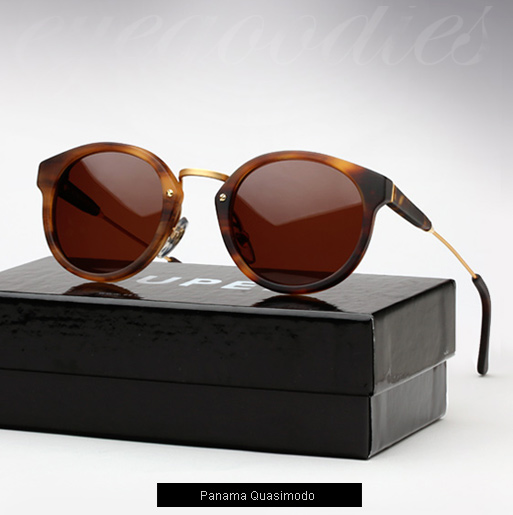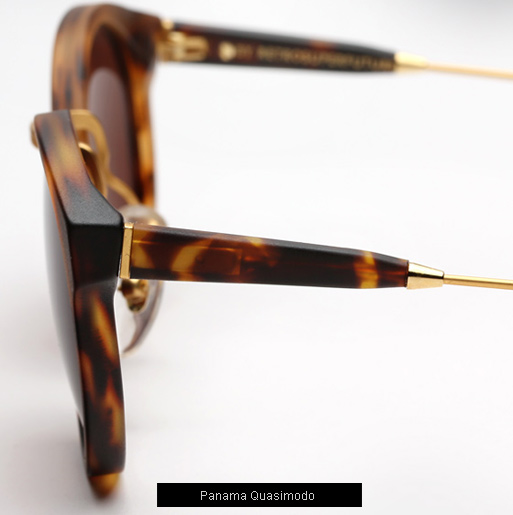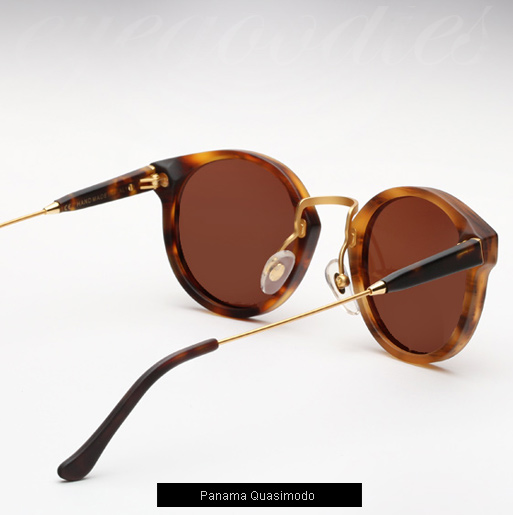 Shop Super Panama Quasimodo Sunglasses >>

Some fresh unique new two-tone colors for the signature Jaguar model. Summery maritime blue and off white paired with deep blue lenses, in a color simply named by Super as "SAILOR".   As well as green and camel brown paired with brown lenses in a color named by Super as "COAST".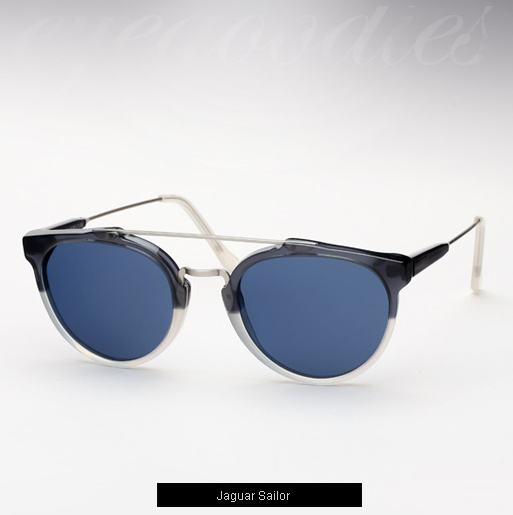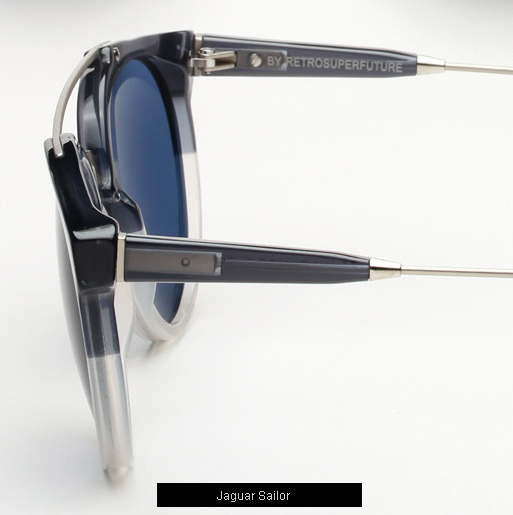 Shop Super Sailor Sunglasses >>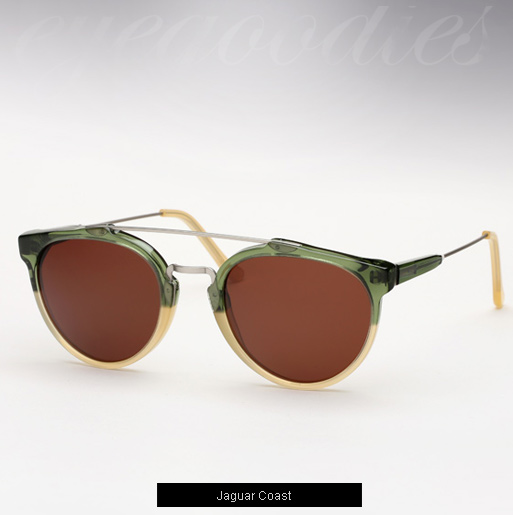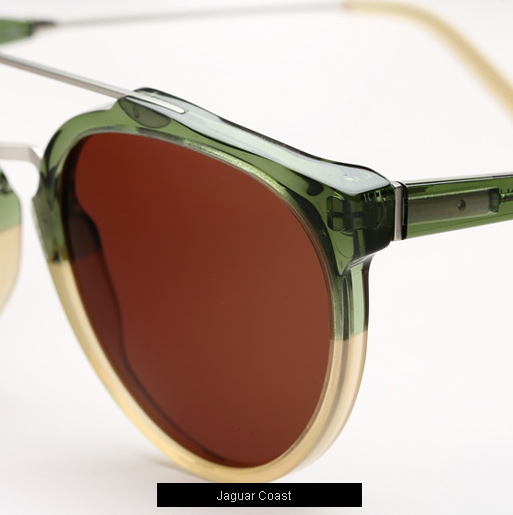 Shop Super Coast Sunglasses >>
SHOP ALL SUPER SUNGLASSES >>
SHOP ALL SUPER EYEGLASSES >>