Tom Ford known for his detailed aviator sunglasses ever since his debut collection, is back again with some really nice editions in 2009. From unique plastic aviators including the Henri (TF 141) and the Rodrigo (TF 134), to detailed metal aviators, such as the Camillo (TF 113), Daniel (TF 114), and Silvano (TF 112). Then there's one piece that provides the best of both worlds, the Tom Ford Pablo (TF132), which comes with removable plastic inserts and a second set of interchangeable lenses.
Heres the Roundup:
The Tom Ford Pablo aviator sunglasses are some serious shades. They come with 2 sets of lenses: One set of lenses that fit right into the metal frame and the other set of lenses in plastic inserts giving the luxurious look of combination shades. Sunglass connoisseurs will notice the similarities to the Tom Ford Hawkings aviator (TF001 now extinct) from his debut line. The difference is the Tom Ford Pablo aviator fits MUCH better; they are a little smaller and better proportioned, fitting both men and women extremely nice. These Tom Ford aviator sunglasses have already been spotted on celebrity's such as Brad Pitt. Real sunglass history buffs will notice the influence of an old (1970's) Ted Lapidus aviator with the plastic inserts in, and the Porsche Design Aviators (1980's) with the plastic inserts out. The Pablo is offered in 3 colors gold/light havana (pictured above), gunmetal/dark havana, and gold/black. This is a very unique piece offering 2 different looks built into one pair of sunglasses.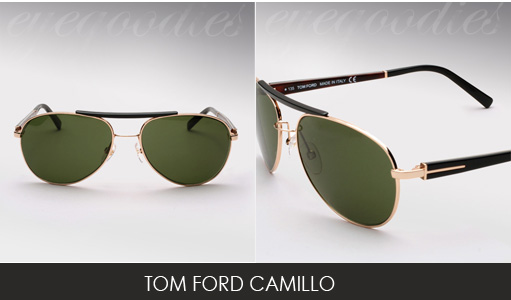 The Tom Ford Camillo aviators (TF0113) are smart, classic, well fitting, and contain luxuriously detailed finishing touches. These aviators aren't "too droopy" or oversized and they don't contain any gaudy branding. They are contemporary cut aviators that properly fit a wide array of faces very nicely. The trimmed tortoise temples make for some really nice detailing, embodying true understated luxury. The Camillo aviators come in 3 colors: Gold/Havana with green lenses (pictured above), Gold/Light havana with gradient brown lenses, and a Dark Brown/Havana with dark brown lenses.
The Tom Ford Daniel (TF0114) is very similar to the Camillo and features all the same detailing; The difference is it's a modern rectangular cut frame.
Another nice edition is the Tom Ford Silvano Aviators (TF0112). It's a simple, nice fitting traditional aviator and comes in a couple of nice color combos including the gold with white trim pictured above (reminiscent of the all popular Gucci 1827/S).
The Tom Ford Henri plastic aviators (TF0141) are the featured sunglasses in many of the Tom Ford ad campaigns. It's a unique take on the classic aviator shape with a mod futuristic and yet somewhat funky vibe to it. The Tom Ford Henri is offered in Black , Havana, and Light Havana.
The Tom Ford Rodrigo (TF0134) sunglasses are one of the nicest editions to the lineup. These simple and fresh plastic aviators have a slight contoured fit providing good protection. They somewhat resemble the Tom Ford Fonda sunglasses of his debut collection, but without as much of a wrap around, thus fitting most much better. While they don't have a double bridge they do have the classic aviator tear drop.