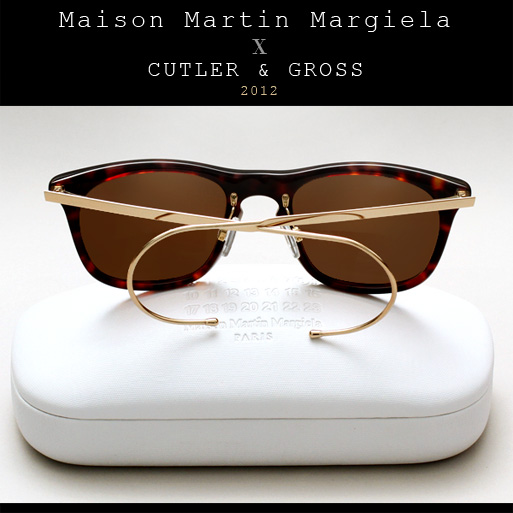 Maison Martin Margiela 2012 sunglass collection is now available.
After a very successful collaboration last year, French fashion label Maison Martin Margiela once again teams up with luxury eyewear maker Cutler and Gross for a full collection of sunglasses for 2012. The collection fuses the very best of two worlds; Maison Martin Margiela brings their signature expertise for experimental deconstructionist design, while the highly esteemed Cutler and Gross sees it to fruition with impeccable attention detail, materials, and workmanship.
The new range takes powerful past inspirations and themes and re-invents them through Margiela's discerning perspective.
The main themes include:
'Cable Temple' – Our favorite of the season, the 'Cable Temple' uses a temple design whose origin can be traced back to the 1800's.  The Italian acetate frame front is paired with German made stainless steel cable temples which wrap around the wearer's ears for a secure and comfortable fit.  Also rare for an acetate frame they feature nose pads which help provide a better fit on a wider variety of noses.  Available in three colors: classic Black,  a rich Dark Turtle, as well as a very unique transparent "Champagne".

'Replica France' – For the first time, Maison Martin Margiela has adapted its 'Replica' line to include sunglasses.  'Replica France' is based on French motoring sunglasses of the 1970s; it is a semi-rounded design with a unique embossed front outline and tapered sides. Available in Black and Champagne.

'Rimless' –  Light weight, minimalist, yet completely distinct and memorable.  The Rimless is a style which plays on the illusion that the lenses are free from form and not surrounded by a frame. The very slim arms are made from stainless steel.  Available as the 'Rimless Pilot' style as well as the bold and oversized 'Rimless Round'.
The Collection:
SHOP: Maison Martin Margiela 'Cable Temple' (Black) Sunglasses >>
SHOP: Maison Martin Margiela 'Cable Temple' (Champagne)  >>
SHOP: Maison Martin Margiela 'Cable Temple' (Dark Turtle) Sunglasses  >>
SHOP: Maison Martin Margiela 'Replica France' (Black) Sunglasses  >>
SHOP: Maison Martin Margiela 'Replica France' (Champagne) Sunglasses  >>
SHOP: Maison Martin Margiela 'Rimless Pilot' (Green) Sunglasses  >>
SHOP: Maison Martin Margiela 'Rimless Round' (Light Grey) Sunglasses  >>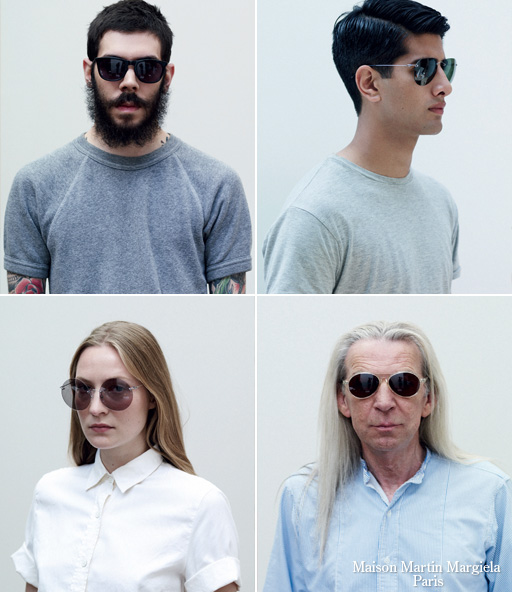 SHOP ALL MAISON MARTIN MARGIELA SUNGLASSES >>