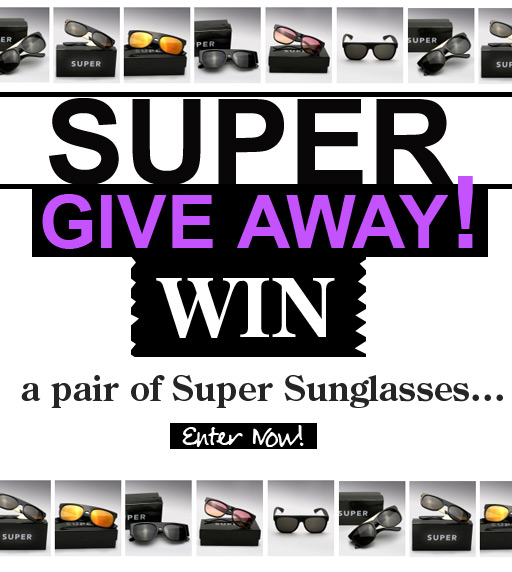 EYEGOODIES GIVAWAY: WIN A PAIR OF SUPER SUNGLASSES
Here we go! We love to give back and what better way than to show our appreciation to you, our customers, then to give away two pairs of Super sunglasses from Retro Super Future. The lucky two winners, selected on March 10th, will receive any pair of Super sunglasses they want from our site. Don't miss your chance to win, anyone can enter.
Entry is fast, simple, and best of all FREE. Details below…

There are 2 ways you can enter:
1. Follow Eyegoodies.com on Twitter ( @eyegoodies ) and tweet the following message:
Follow @eyegoodies + RT this message by Mar 10th to enter to WIN a FREE pair of SUPER sunglasses by RETROSUPERFUTURE http://bit.ly/bm8gy5

or you can…
2. Sign Up to our newsletter (located on the bottom of the site)
with a valid email address and then write a comment in this post. If you are already subscribed, then simply write a comment in this post.
Though you only need to do 1 or 2 above to enter, you can do 1 and 2 to double your chances at winning!
Note:
if entering by method 1, you must be following us on twitter.
If entering by method 2 you must be signed up to our newsletter list.
We will randomly choose one retweet and one comment in this post as the winners on March 10th 2010(12 pm EST), two winners total will be selected. The winners will be contacted by direct message on twitter or by email depending on entry method. That lucky individuals will have their choice of any pair of Super sunglasses they want from our site, which you can see here.
Good Luck!

THE GIVEAWAY IS NOW CLOSED… The Results are in…
Congratulations to:
Ashlynn from CA – Flat Top Black & Gold
Jess from Canada – Ciccio Black & Gold

We would like to thank everyone for participating. Also keep a look out as alot more giveaways and contests will soon be popping up!