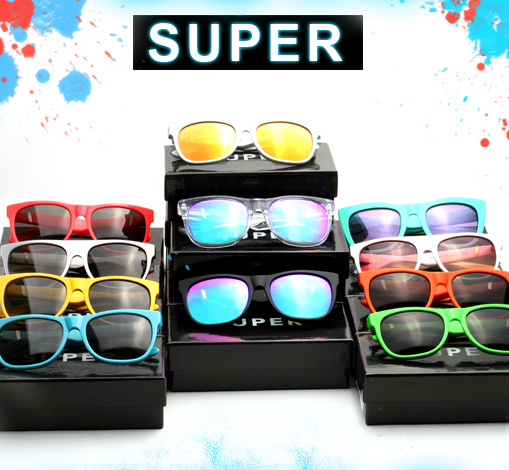 The Retro Super Future brand emerged out of Italy's fashion underground. Their modern retro inspired classic sunglasses are all handmade in Italy of top quality acetate and all feature Zeiss lenses which are renowned for their superb optics.
People have taken notice, whether it be Kanye West rocking the flat tops or Sienna Miller in the sky blue basic shape. Also seen wearing Super sunglasses: Jessica Alba, Lil Wayne, Daft Punk, Christina Aguilera, Santigold, and Valentino Rossi just to name a few.
The summer 2009 Super sunglass collection is now in stock, but dont wait too long as each pair is limited, so get them while they last.
Heres the Roundup:
The basic shape is Retro Super Future's take on the classic wayfarer, Its slighty oversized and offered in a myriad of colors.
Just in time for summer Super Basic shape wayfarer sunglasses in bright neon Pop colors such as the Super Sky blue, fluorescent green, fluorescent yellow, fluorescent orange, and fluorescent red.
Super's multi colored frames like the Technicolor and Trio have unique detailing that sets them apart from any old black wayfarers. Definite head turners.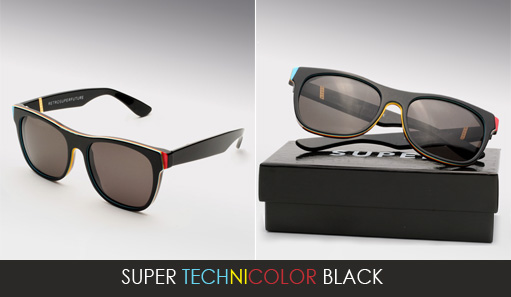 SHOP SUPER TECHNICOLOR BLACK >>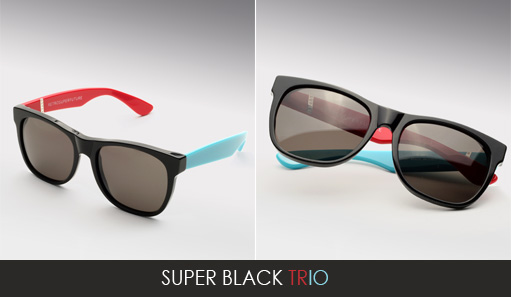 The new 'flash series' feature zeiss rainbow mirror lenses and the '24k' feature zeiss gold mirror lenses, which are some of the nicest editions to the Retro Super Future sunglass line up.
SHOP SUPER FLASH SUNGLASSES >>
These classic Wayfarer frames feature Zeiss rainbow mirrored lenses which emit different colors at different angles. These lenses really POP and make for a distinct look, appreciated best in person.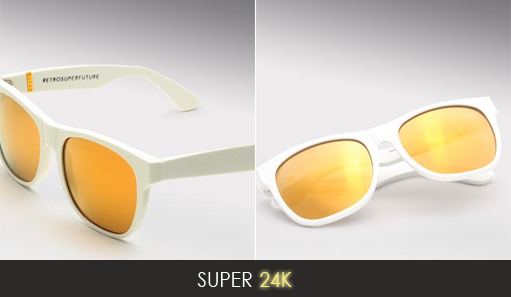 Here in the white basic shape with "24k" zeiss gold mirrored lenses. These lenses shine so bright they shimmer.
Translucent sunglasses such as the Super Crystal and semi translucent Super Ivory with light blue lenses make a very cool subtle summer addition.
SHOP SUPER TRANSLUCENT SUNGLASSES >>
The Super Flat Top Sunglasses are pretty self explanatory. They are a mod take on the classic thick plastic wayfarer shape, with clean edges and hot color combos.
SHOP SUPER FLAT TOP SUNGLASSES >>
A really nice color way is the Super Sex on the Beach flat top. These white super sunglasses will really pop against a nice tan.
We really can't say enough about the quality and design of Super's line, even if they were double the price you would be getting your moneys worth.
All super sunglasses are limited releases so get them while they last.

Be sure to read about the new FALL '09 SUPER SHIPMENT .