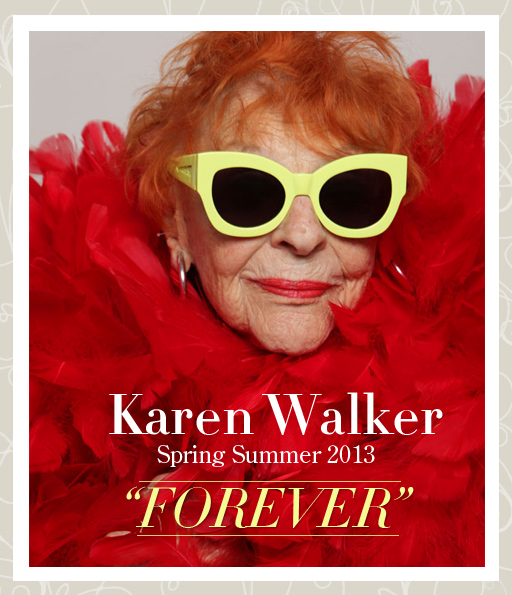 The much anticipated Karen Walker sunglasses Spring/Summer 2013 'Forever' collection is now available.
Whether you are 22 or 92, Karen Walker sunglasses are undeniably beautiful…
Always completely original, Karen Walker doesn't disappoint this season and delivers a collection which is simultaneously playful, chic, and beaming with vibrant color.  Several new shapes are introduced, ranging from an oversized round sunglass named 'ORBIT', to a very well proportioned chunky cat-eye design named "NORETHEN LIGHTS"(our favorite), as well as several stunning frames in between.
There is a plethora of colors to choose from, from your classic black to florescent yellow to crystal turquoise or pink. Some beloved best-selling styles also return in new colors, such as the all-popular 'HARVEST' in 'Crazy Tortoise' or the 'NUMBER ONE' in mouthwatering peach.
Unique to this season is Karen Walker's creative use of signature metal filigree detailing, incorporated both on and encased in the acetate of several of the frames.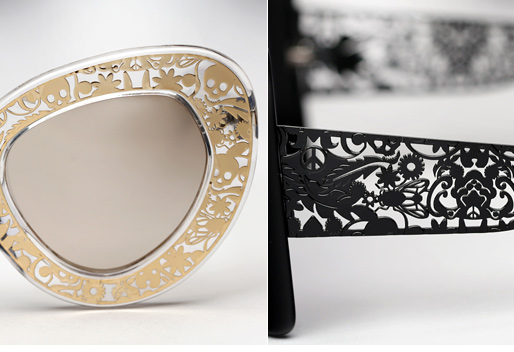 The 'Forever' campaign, shot by Ari Seth Cohen of 'Advanced Style', is a "celebration eternal optimism".  Each model is between 65 and 92 years young and was photographed in their New York homes, all looking stunning in their Karen Walker shades.  As usual, stock is limited so snap up your favorite before its gone FOREVER. Check out the campaign and collection below, paired with our product photos.
Shop Karen Walker Northern Lights Sunglasses | Colors Available:
Crazy Tortoise >>
Fluro Yellow >>
Shop Karen Walker Blue Moon – Black Sunglasses >>
Shop Karen Walker Intergalactic Sunglasses | Colors Available:
Pink w/ Silver >>
Clear w/ Gold >>
Shop Karen Walker Harvest – Tortoise Sunglasses >>

Shop Karen Walker Orbit Sunglasses | Colors Available:
Crystal Turquoise >>
Crystal Pink >>
Clear >>
Shop Karen Walker Eclipse – Black Sunglasses >>
Shop Karen Walker Number One – Peach Sunglasses >>
Shop Karen Walker Atomic – Black Sunglasses >>
Shop Karen Walker Deep Freeze – Clear Sunglasses >>
Shop Karen Walker Space Bug Sunglasses | Colors Available:
Clear >>
Shop Karen Walker Optimist – Black Sunglasses >>
SHOP ALL KAREN WALKER SUNGLASSES >>