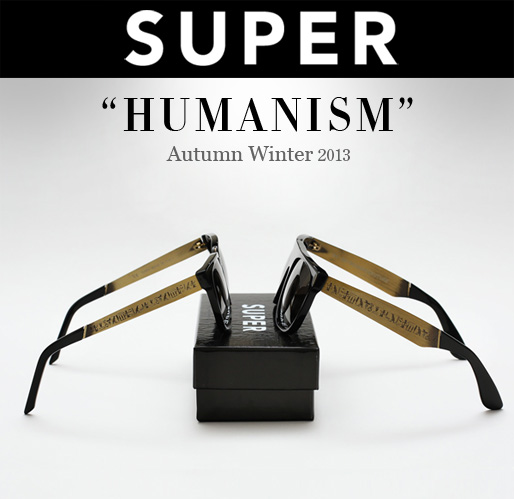 The much anticipated Super AW 2012/2013 Collection is now stock,  supply limited!
This season Super draws inspiration from our Human species. Looking through our history,  Super takes elements from a vast multitude of civilizations and cultures, and projects them into the future with one cohesive collection, simply entitled "HUMANISM".
We see them experiment with different textures, textiles, and high tech techniques. As well as some instant classics, such as the introduction of the new Havana & Black colorway and new America Francis pieces.
There's a little something in this collection for all mankind (and womankind) — we present to you "Humanism".
The collection:

A twist on the popular Francis(Black & Gold) series and a seasonal wild card,  Super introduces the "Hieroglyphics Francis" AKA the "Francis Pharaoh".  Black acetate is paired with antiqued gold metal temples which have been meticulously engraved with precision, featuring hieroglyphic–inspired graphics. The result is an undoubtedly original and fresh design.  Available in Super's Flat Top and People models.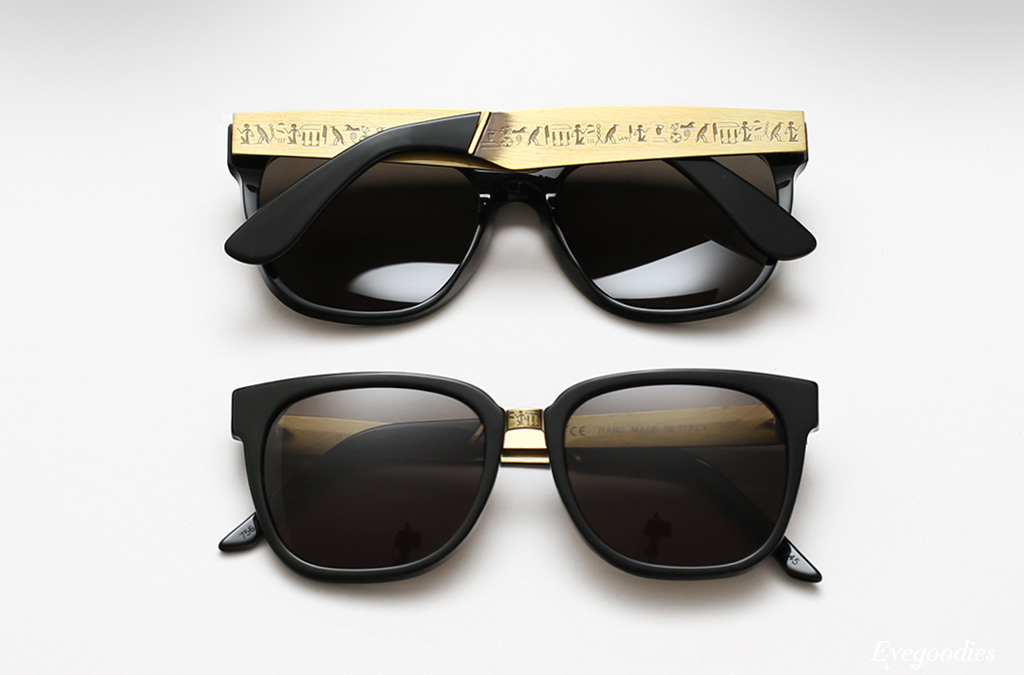 (click image to view larger)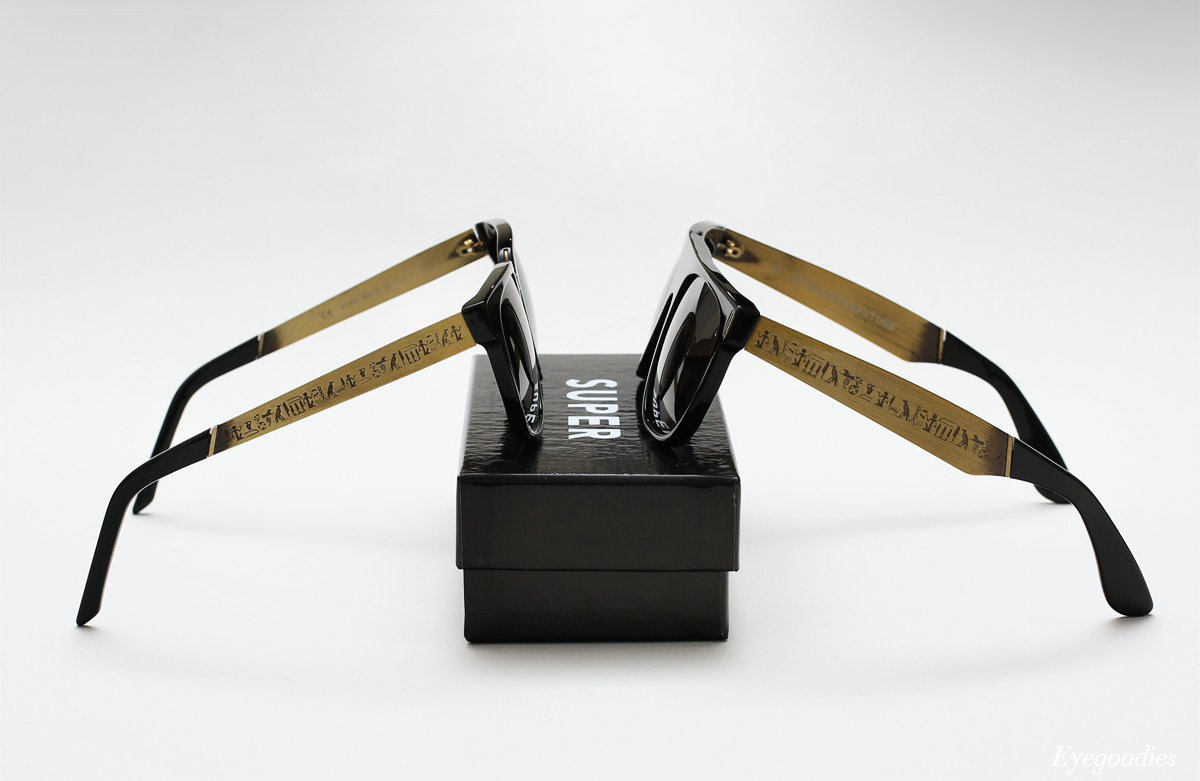 (click image to view larger)
SHOP Super Hieroglyphics Francis  | Available in:
People  >>
Flat Top >>

Set to become an instant classic, the HAVANA&BLACK series is equal parts traditional and fresh. The combination of a specific selection of havana and tortoise acetates are paired with a sleek black, making for a timeless style perfect for any occasion.  Available in Super's Flat Top and America models.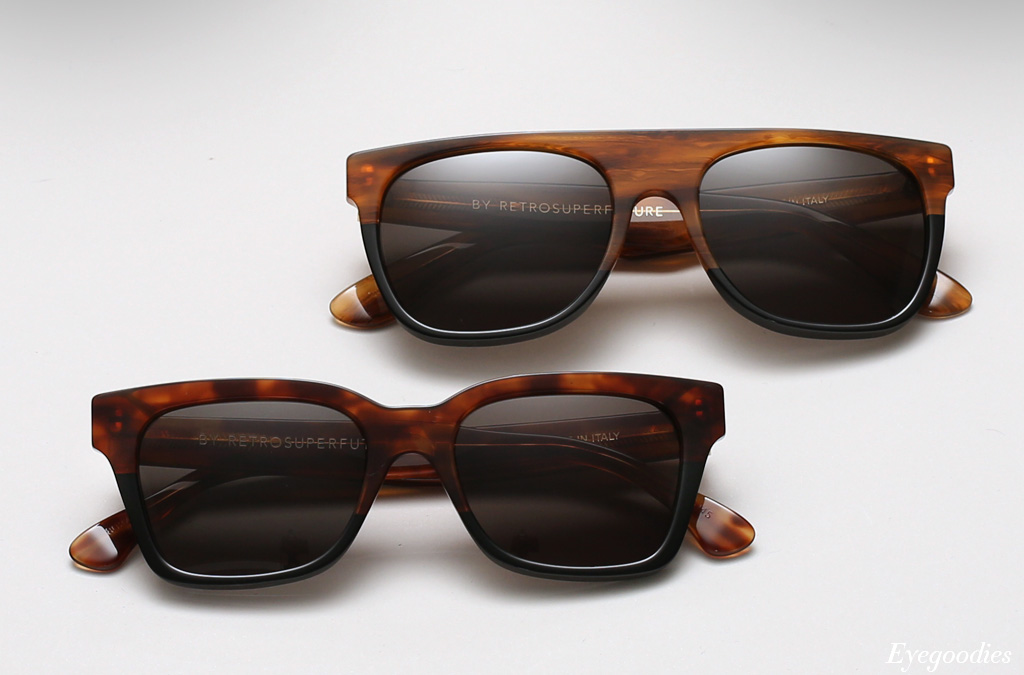 (click image to view larger)
SHOP Super Havana & Black sunglasses  | Available in:
Flat Top  >>
America >>

The Leather & Acetate range carries the SUPER stamp of sheer class in design and execution: elegant shiny black acetate is paired with soft brown Italian leather. The leather, recalling an aged skin darkened by many days in the sun, has been meticulously placed by hand.  A timeless and classic piece of eyewear, that as it ages will only add to its character. Available in the Flat Top, People, and Racer model.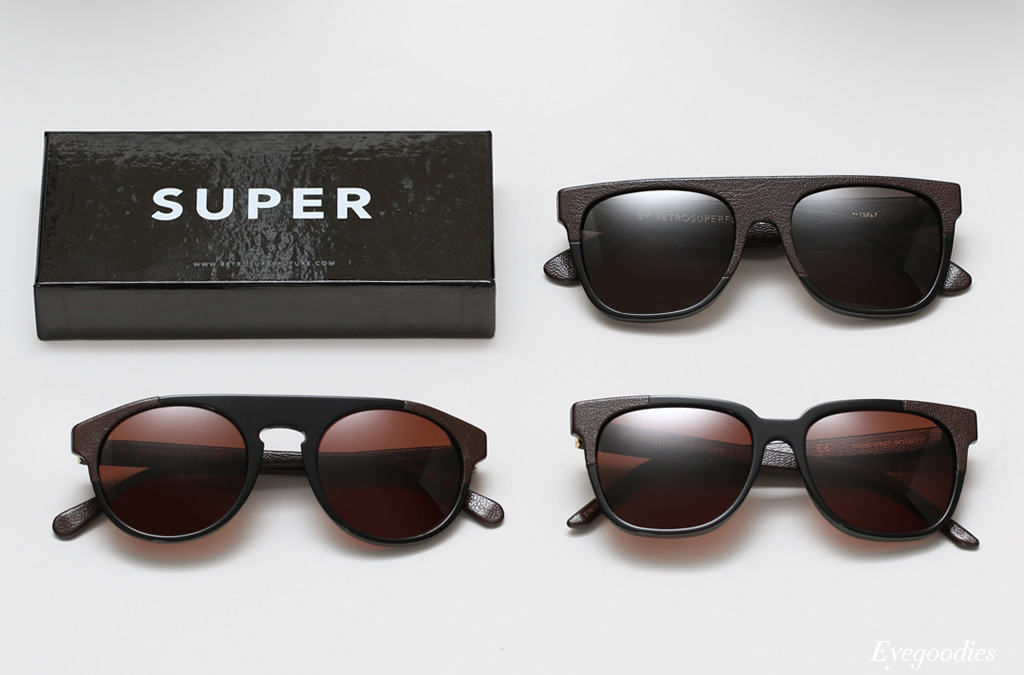 (click image to view larger)
SHOP Super Leather & Acetate Sunglasses  | Available in:
Flat Top >>
Racer >>
People >>

The HORIZON series is one of the most technical and exclusive of Super's range, featuring partially mirrored lenses specifically aimed at a practical on-the-road use—whether it for biking, driving, running or walking—without sidelining the style.
This particular technique of mirroring only the top portion of the lens allows you to cross various terrains under strong sunlight, by blocking the direct sunlight coming from above. The lower portion of the lens is lighter, without color distortion, ensuring a 'faithful to the color' view.   Available in the 49er and the Jaguar model.
SHOP Super Horizon Sunglasses  | Available in:
49er >>
Jaguar >>

The FRANCIS range is among Super's most beloved and best-selling. The classic black acetate and gold metal combo is sleek, self-assured, and easy to pull-off.  This season they have broadened the range to include their America model, in both the conventional Black & Gold, as a well as "Brown Puma" & Gold metal.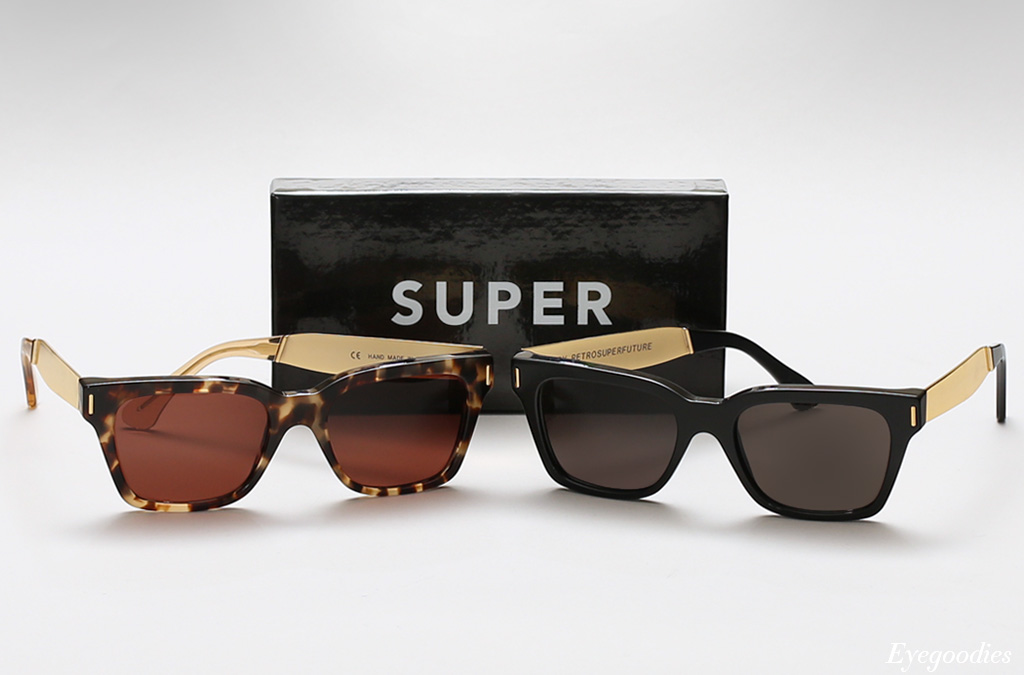 (click image to view larger)
SHOP Super America Francis  | Available in:
America Brown Puma & Gold >>
America Black & Gold  >>

For the DISTINCT CLASSICS Super gives us light tinted lenses set against their trusty Havana acetate, for a lighthearted and sophisticated look.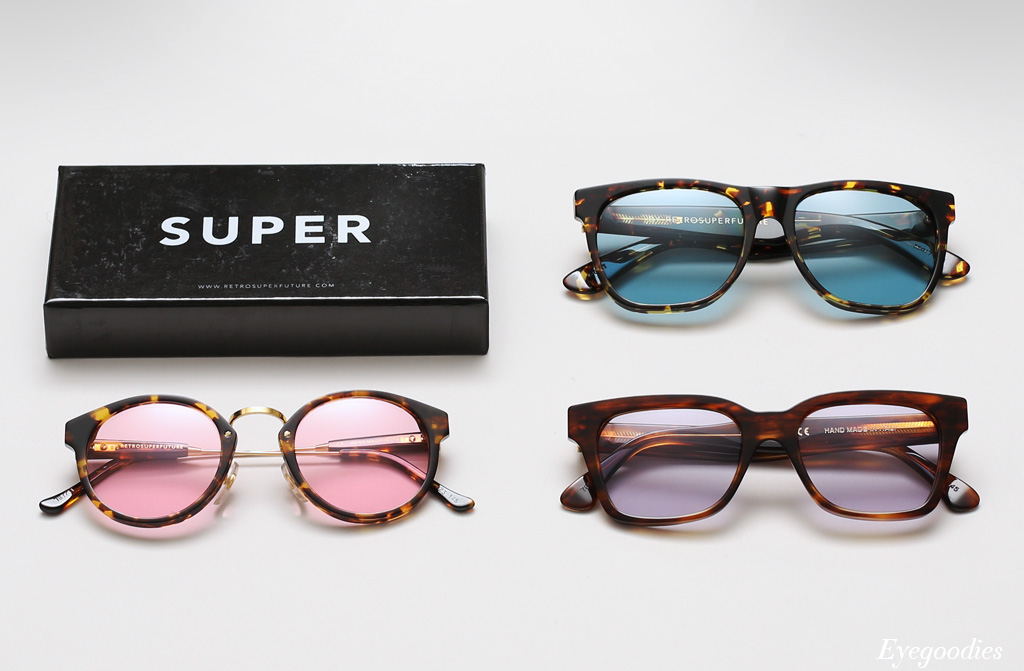 (click image to view larger)
SHOP Super Distinct Classics  | Available in:
Basic Yellow Tortoise / Blue >>
Panama Burnt Havana / Pink  >>
America Striped Tobacco / Lilac >>

Continuing with the limited edition Visiva series, Super expands its range to not only include high resolution frame printing, but also laser engraved acetate, and printed fabrics. Each frame comes with a special edition case and will be produced during AW 2012/13 only.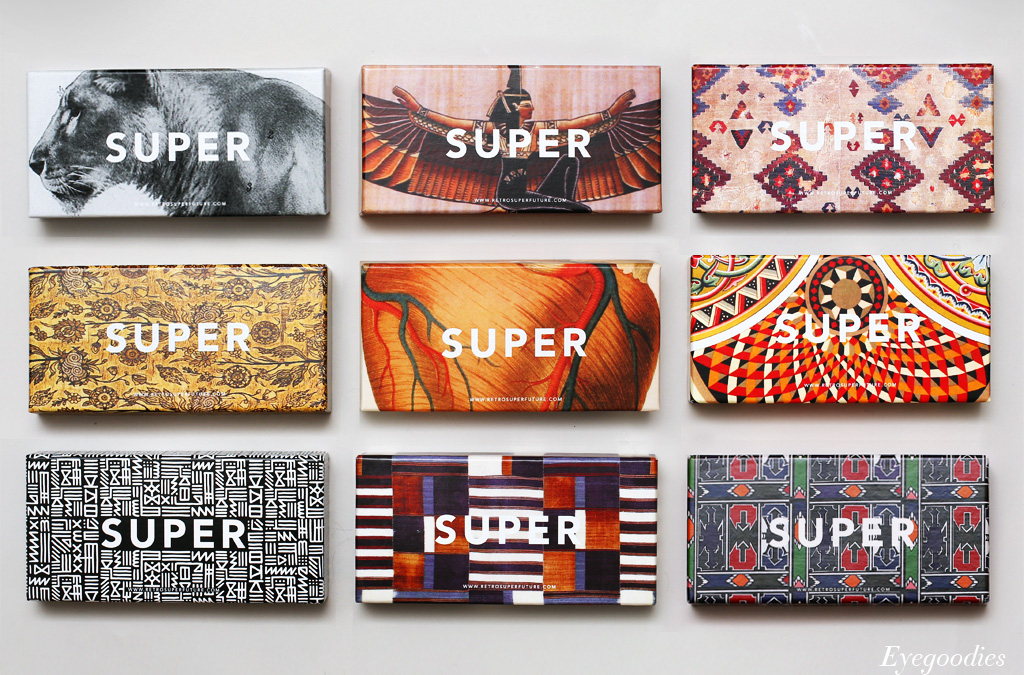 (click image to view larger)
—— A few of our favorites from the VISIVA series —–
AFRICA MOROSS:
The AFRICA MOROSS seasonal project was inspired by one of the dominating characteristics of this Autumn/Winter collection: handcrafted patterns. Super teamed up with illustrator Kate Moross to create the perfect design for this series.  This graphic yet wearable series is characterized by an African-inspired white engraved illustration on the temples mounted on sleek black acetate, and paired with deep blue lenses.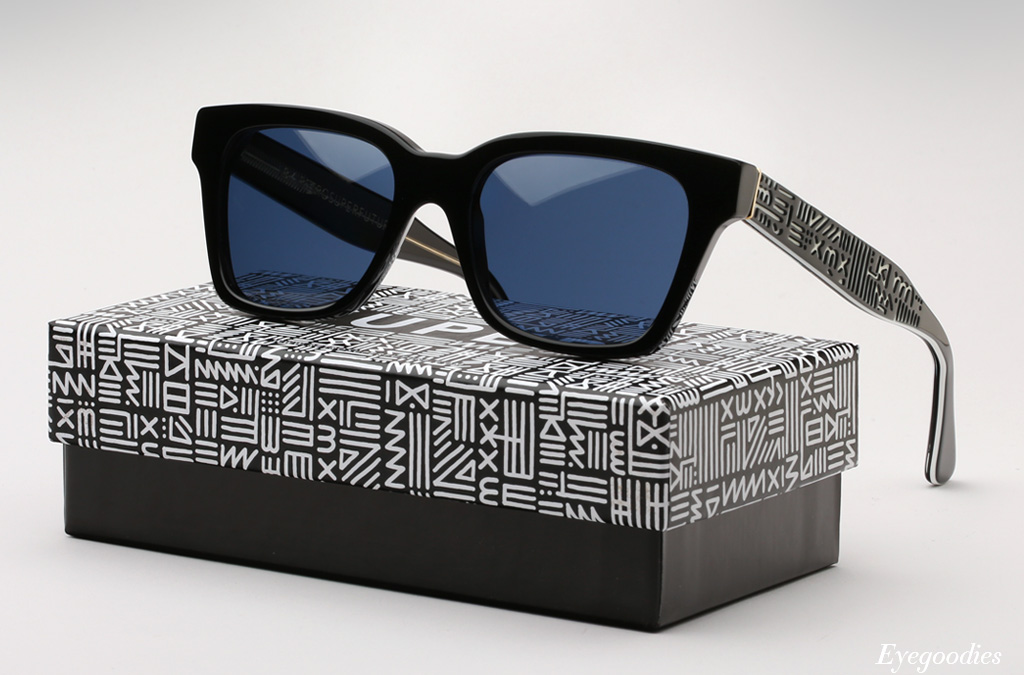 (click image to view larger)
SHOP Super Africa Moross  | Available in:
America >>
Flat Top >>
FABRIC LUCIA:
The FABRIC Lucia is inspired by world culture and man's ability to turn natural elements to art, in this specific occasion from Turkish Kilim. Thick printed fabrics wrap the beloved Lucia model, completely covering it for an all-out retro-bohemian vibe.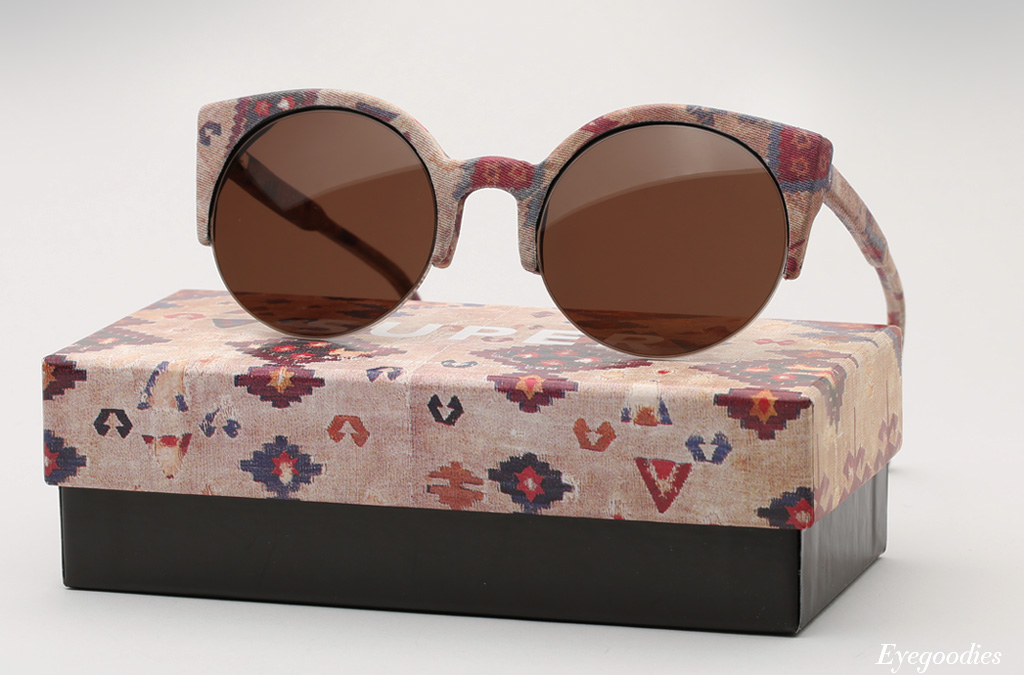 (click image to view larger)
SHOP Lucia Fabric sunglasses >>
FELIDAE:
A simple, clean and reliable black Flat Top set with dark grey Zeiss lenses, while the interior is mounted with a black and white print of a lion, prowling and on the hunt.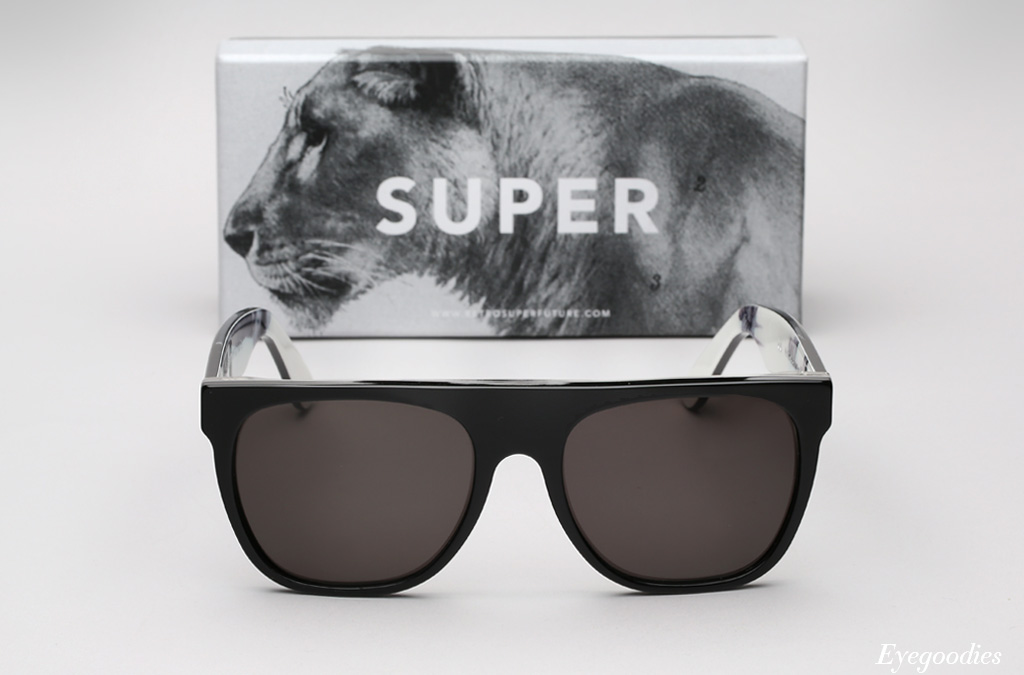 (click image to view larger)
SHOP Flat Top Felidae sunglasses >>
NDEBELE:
The Ndebele features a simple and clean front with slick black acetate, while the side profile is contrasted with a tribal African print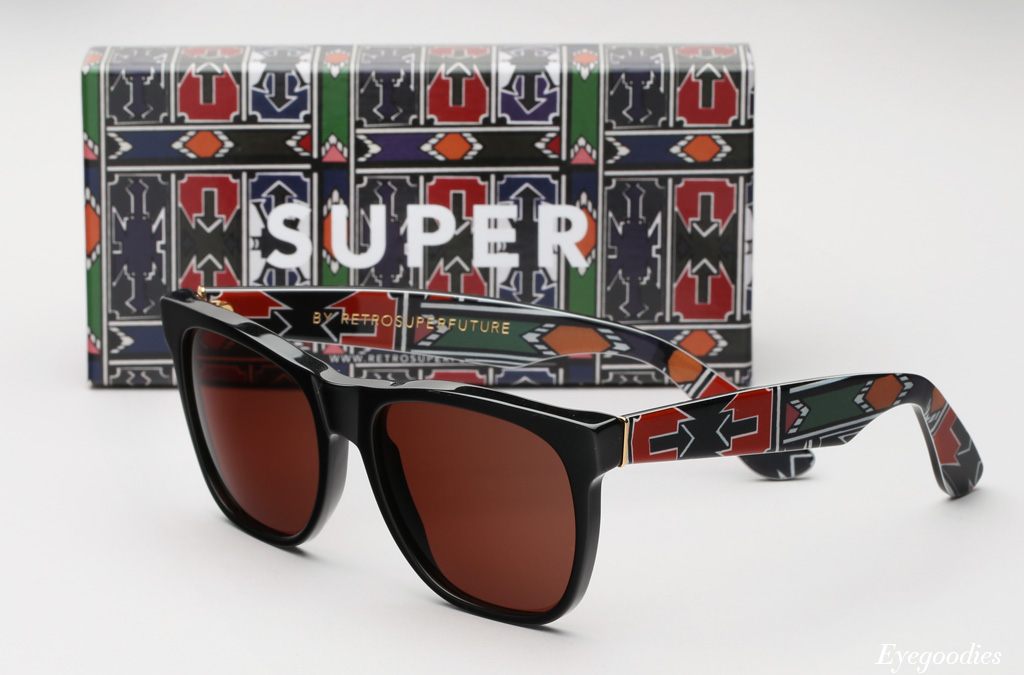 (click image to view larger)
SHOP Super Ndebele  | Available in:
Basic Shape >>
Flat Top >>

Faded Bordeaux  and Faded Grey:
Introduced exclusively in the optical range are two new unique "faded" colorways, a brown which fades to crystal and a grey which fades to crystal. Available in Super's signature: People Small (top row), America Small (middle row), and Panama Small (bottom row). It's also worth noting that the new optical pieces that have the word "small" in their name, are far from small, but just slightly smaller — providing a much better and more versatile fit for an eyeglass.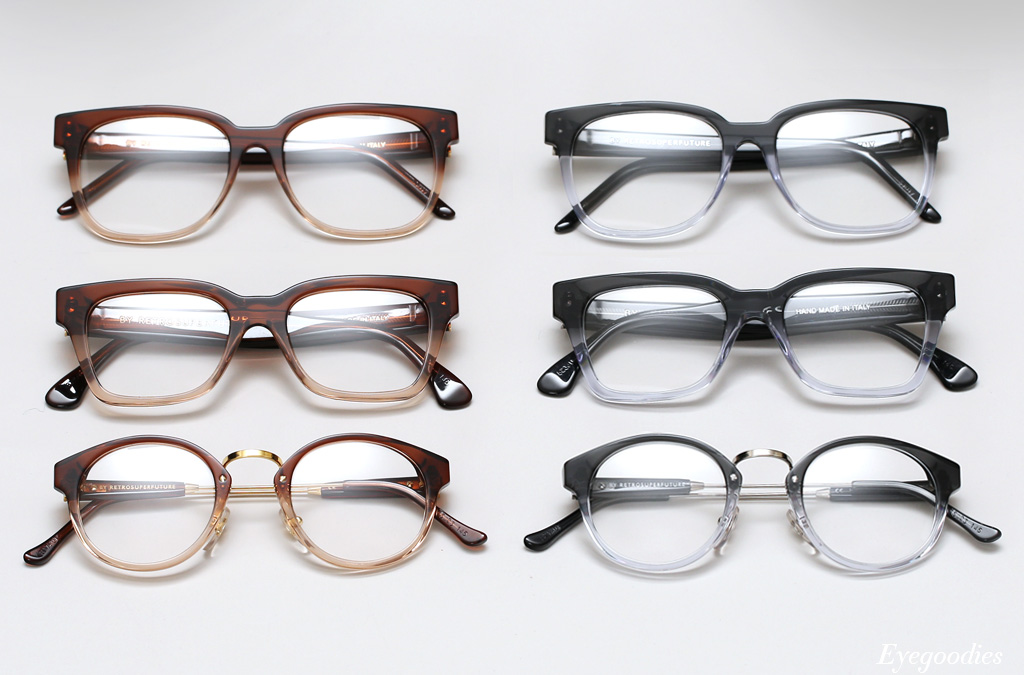 (click image to view larger)
SHOP Faded Brown: People Small |  America Small |  Panama Small
SHOP Faded Grey: People Small |   America Small |  Panama Small
Havana & Black: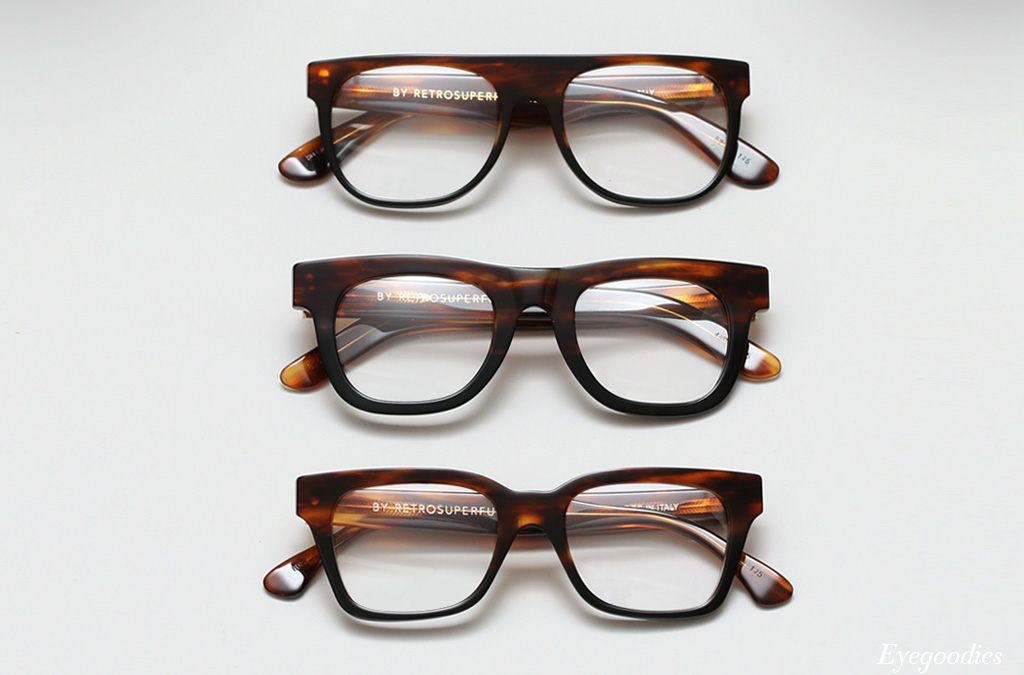 (click image to view larger)
SHOP Super Havana & Black Eyeglasses  | Available in:
Flat Top Small >>
Ciccio Small >>
America Small >>
SHOP ALL SUPER SUNGLASSES >>
SHOP ALL SUPER EYEGLASSES >>