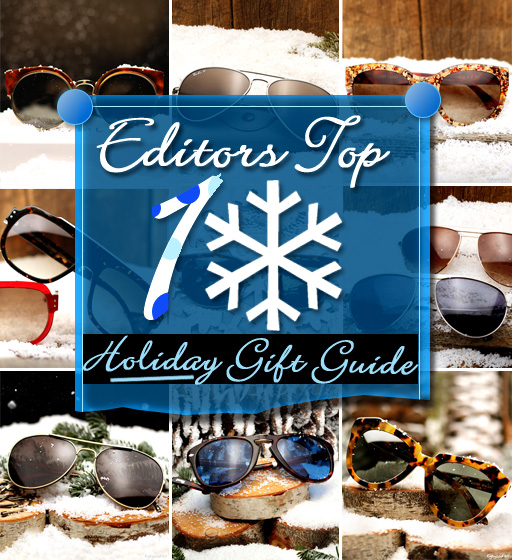 Our editor's top ten sunglasses for the season.
We've made our list and checked it twice; From limited editions, to new arrivals, to best sellers, our gift guide has you covered.
Without further ado: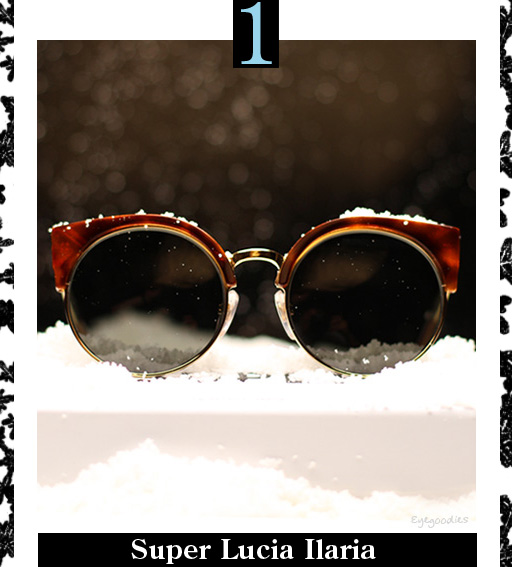 The Limited Edition Super ILARIA, available in the US exclusively at eyegoodies.com.
Part of Super's special projects, meant to signify their top range models which are produced in extra limited quantity, Super releases the Ilaria.
The Ilaria transforms the Lucia model with the use of classic havana acetate and gold metal. The havana elegantly dresses the front of the frame and the temple tips while the gold metal gives it a rich contrast. Especially unique to the Ilaria is the gold metal which also outlines the lenses, really highlighting their round shape, as well as providing greater structural integrity.
Limited to 170 pieces total produced, the Ilaria features Super's signature white box which has always distinguished their special projects, as well as a unique supple all leather carrying case.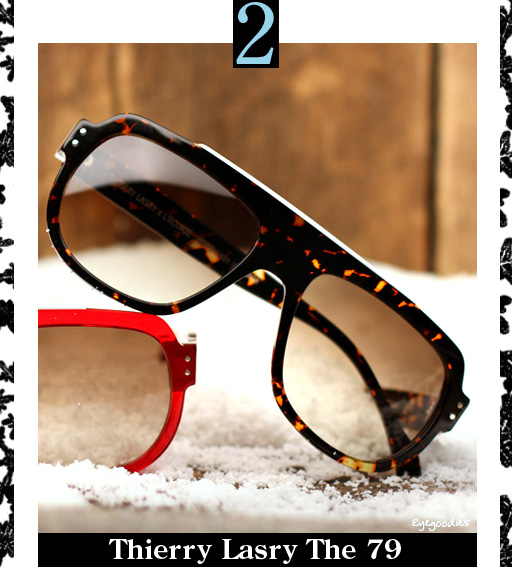 Thierry Lasry X L'Ecurie
Thierry Lasry collaborates with French design house L'Ecurie(known for translating movement into design and their one of a kind auto customizations) to create a truly unique piece of eyewear that blends both their passions seamlessly. The frame, appropriately named "The Seventy Nine", revives the cool styling of the glasses worn by late legend Paul Newman when he participated in the famed "24 Heures du Mans" race in 1979 (finishing second and winning the Imsa class).  Featured above in tortoise with white accents(also available in black, blue, red)
SHOP:  Thierry Lasry The 79 (tortoise) >>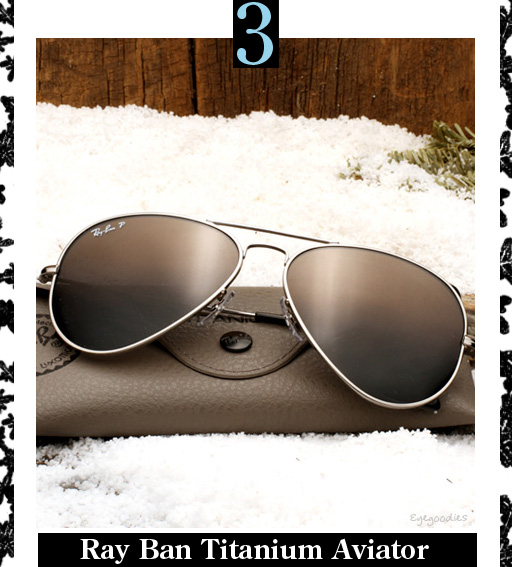 Ray Ban RB 8041 Titanium Aviator sunglasses simply termed by Ray Ban as the "Aviator Titanium", takes the exact classic best selling Ray Ban Aviator RB 3025 model and improves it by crafting it out of pure beta titanium.
Titanium is not only a lot stronger than steel, its also extremely anti-corrosive and a lot lighter weight. The Ray Ban Aviator model, first created in 1936, truly is a timeless style that is meant to last a lifetime; The added durability and strength of titanium helps ensure they will.
SHOP:  Ray Ban Titanium Aviator >>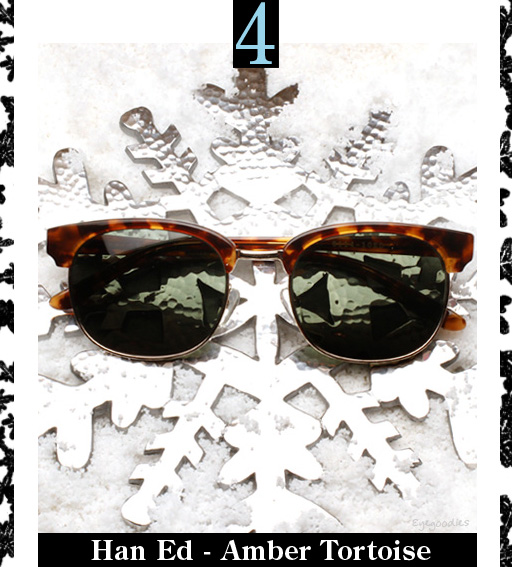 Han doesn't follow trends, but does follow classic design principles.
Han Kjobenhavn eyewear, simply called Han, was born May 1st 2008 in Copenhagen, Denmark. It was conceived with all the elements that form traditional Danish design: simplicity, quality craftsmanship, and originality. All hand made in Denmark, Han eyewear's foundation is built upon a timeless aesthetic with influences from decades and icons past. We're talking simple and classic designs, but aesthetically beautiful elements. As Han so perfectly phrases it "Classic isn't boring, but is a factor that can continue to inspire and relive itself over and over again".
The new Ed shades from Han are an authentic mid century style "clubmaster", a little more subdued compared to Ray Ban's offering.  Featured above in amber tortoise, also available in black and army tortoise.
SHOP:  Han Ed – Amber Tortoise >>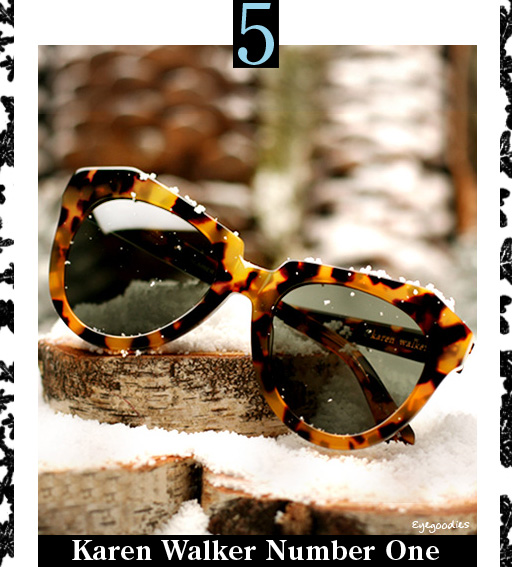 The New Zealand born designer, ever since debuting her run way collection, has enjoyed an ever growing following with collections that are effortless and unpretentious.
Karen walker Number One is a well-fitting feminine shape that ties together many unique style elements. It features modern angular edges, a pulled up line, and Karen Walker's signature arrows adorning the temples. Featured here in one of our favorite classic color combinations of tokyo tortoise(crazy tortoise) with G15 lenses.
SHOP:  Karen Walker Number One – Tortoise >>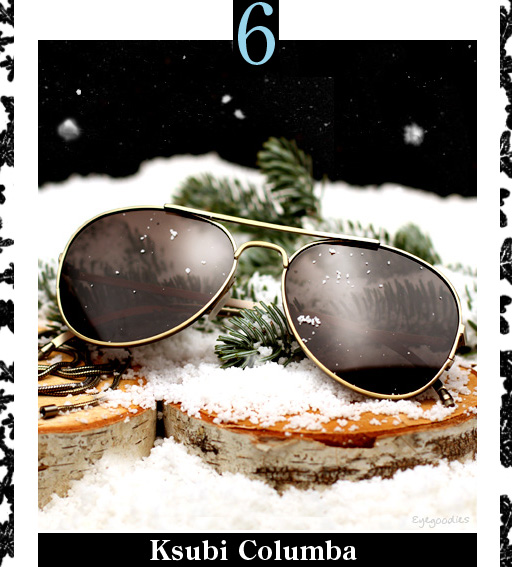 Ksubi is quite possibly Australia's most iconic fashion brand, which was first created in 2000 by Dan Single and George Gorrow. George having a love of all things eyewear knew this was a natural progression for the line. The collection is simple yet built with an eclectic mix of styles, inspired by pop comic, steam punk and vintage, creating a contrasting but unified & original look.
The new Columba model, part of Ksubi's 2011 "eye, eye" collection, is a classic styled aviator that works equally well on both men and women.  Some notable features include an optional/detachable eyeglass chain, as well as a brushed antique gold metal finish.
SHOP:  Kusbi Columba (gold/grey) >>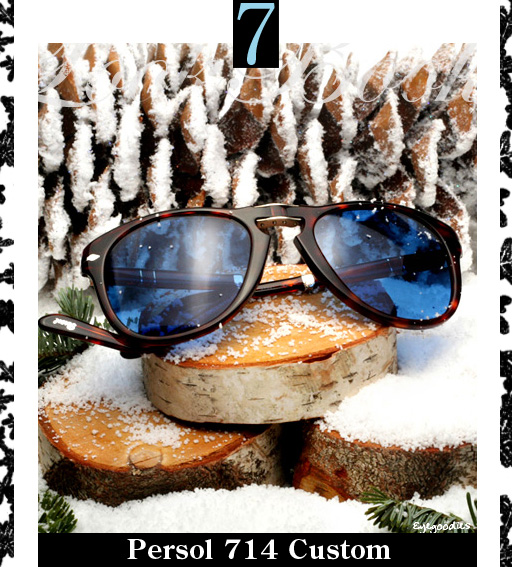 The re-birth of a classic. The Persol 714 custom Thomas Crown edition is the perfect gift for any Steve McQueen fan or anyone who is simply a fan of cool. Definitely the most noted Persol 714 worn by McQueen,both on an off screen, was with custom tinted blue lenses; which made a special guest appearance in the film "The Thomas Crown Affair". To pay tribute to this we are offering an eyegoodies exclusive: the Persol 714 with custom blue lenses. The top quality French optical lenses manufactured by Essilor and custom tinted to the perfect shade of blue(shown above in tortoise with blue B lenses).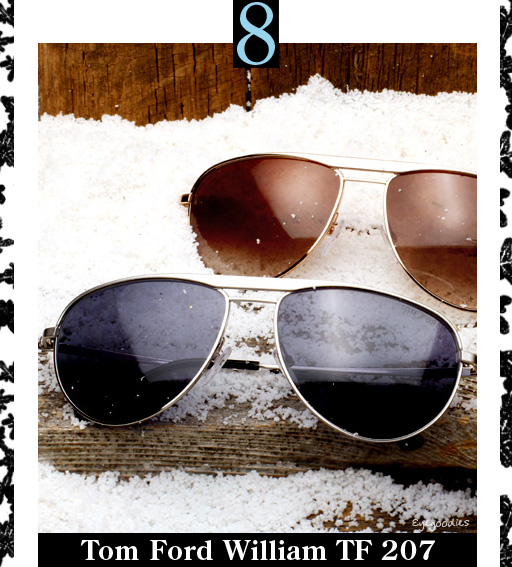 Part of Tom Ford's new 2011 collection, the William is  an ultra sleek and modern aviator sure to make the man in your life very happy. Tom Ford eyewear fans might notice it is very similar in shape and style to the all popular James Bond TF 108 model (no longer made).
SHOP:  Tom Ford William TF 107 >>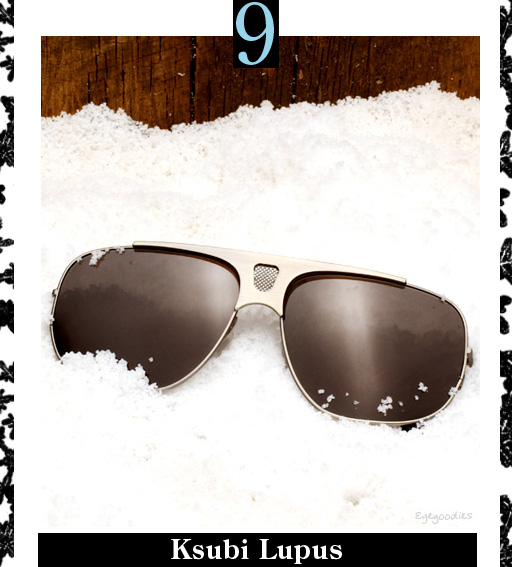 The Lupus, part of the Ksubi's new 2011 "eye, eye" collection, has a post modern industrial feel.  Some notable features include metal mesh at the bridge, as well as a brushed antique silver metal finish.  The Lupus fits most people very well and works nicely on both men and women.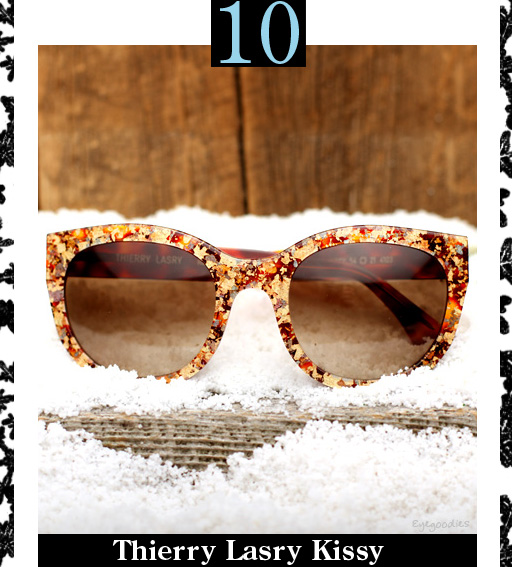 Thierry Lasry, all hand-made in France, takes a very fresh avant-garde approach to sunglasses.  Based off the concept of "futuristic-vintage" they utilize vintage designs and color palettes, but incorporate an updated modern touch with a surprising ease.
The new Kissy model, part of Thierry Lasry's 2011 line, is flattering feminine shape in a beautiful one a kind acetate.
For these and other editor's picks be sure to checkout our new Winter 2011 Look Book >>